Project Medishare Blog - Health Care on the Central Plateau
Posted on:

9 December 2007

By:

Bryan Schaaf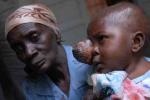 We frequently write about the innovative work that Project Medishare and its partners began in Thomonde and have expanded into ineighboring provinces.  Recently, they remodelled their website and added a very nice blog and its definitely worth a look if you are interested in Haiti's Central Plateau and public health.
The first part of the blog concerns a group of specialists that Project Medishare brought to Haiti from the the Bascom Palmer Eye Institute at the University of Miami.  Haiti does not produce nearly enough medical professionals to meet its needs, and of those, extremely few of them will become eye doctors.  Even the best hospitals are hard pressed to provide eye care, and I fear that will be the case until Haiti's capacity to train both medical generalists and specialists increases significantly.
Between the dust, heat, and lack of access to routine care, eye problems are common in Haiti.  Further on in the blog is an article concerning a young girl with the worst eye tumor that I have ever seen in my life.  As the blog notes, her condition had become not only sight threatening but life threatening.  She is being brought fromt the town of Casse along the border with the DR to the Partners in Health Hospital to have a complete examination and to consider where/how to perform surgery. 
Another blog concerns their new partnership with Emory University.  Project Medishare is partnering with a number of Universities to expand health care services.  George Washington University, University of Miami, and Northwestern are others.
You can also read the perspectives of returned Peace Corps Volunteers who work with Project Medishare, Haitian health care providers, and surgeons like Rick Spurlock who began working in Haiti when they were young medical students, developed a connection to Haiti, and continue to return whenever they can.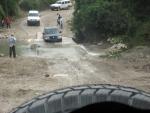 There is also several good photos, including one here of Route National Three.   The roads are very difficult on the Central Plateau and are prone to flooding.  Getting around is never easy.  My understanding is that they are going to pave the road from Mount Kabrit to Mirbalaise - It still leaves the roughest part of the road untouched, but it will be a big help.
We enjoyed reading the blog an think you will too.  You can access it by clicking here.
Bryan