Returned Peace Corps Volunteers Respond to the Haiti Earthquake
Posted on:

1 February 2010

By:

Bryan Schaaf

Peace Corps/Haiti was never a very large program.  However, Peace Corps Volunteers have long made a difference in Haiti both through the projects we participated in and the relationships we made.  Likewise, Haiti made a difference for us, most of all, in the way we view the world.  While Peace Corps is no longer active in Haiti, those who served there certainly are.  All have been affected by the earthquake and all are taking action in some way.  Below is a summary of what Haiti Returned Peace Corps Volunteers (RPCVs) are thinking, feeling, and doing in response.  In this way, we both bear witness and re-affirm our commitment to stay connected to Haiti. 
Josh Kunin-Goldsmith (01-03) writes:  The congested streets of Port-au-Prince exploding each afternoon into a vivid rainbow of multiple school uniforms; the savory smell (and taste) of roadside rice, beans and spices nestled between piles of trash and stray dogs; the bright smiles, loud opinions and countless acts of generosity that I saw daily; and the music, everywhere there was music.  These are just of few of the memories that come to mind when I think of the five years I lived in Haiti, as a Peace Corps volunteer and then with the United Nations and the Centers for Disease Control and Prevention (CDC).  Now I struggle to comprehend that much of what I remember is gone.  The five-story apartment building where I lived for two years, like much of the capital, is just rubble.  I and many others don't know for certain which of my friends made it out alive. 
I do know (pray) that somewhere there is still hope for Haiti. The power outages, logistical bottlenecks, and leadership gaps that hamper the rescue and recovery efforts have hampered the Haitian populace for years.  Only now do they seem to be receiving the international attention they have always deserved.  I am trying to count myself among those able to see an opportunity among this horrendous tragedy.  The media focus on the made-for-television misfortune, not the underlying structural issues that exposed three million Haitian to the ravages of geology. 
So while it is crucial to support the life-saving emergency response of the Red Cross Movement and others on the front lines, it is equally as important to focus on building a viable civil society, functional educational system and a reliable infrastructure.  The idea of a "recovery" from this earthquake evokes an aim of returning to the status quo.  For Haiti, the status quo is the problem; any recovery that does not change this will be a failure.
Tanya Santiago (97-99) writes:  7.0 Earthquake! An Earthquake?! In Haiti?! Hurricanes, yes, but earthquakes?!  I am in shock and disbelief – not accepting what I am hearing: a magnitude 7.0 earthquake hit Haiti – a country I once called home.  I am at work sitting at my desk starring at the computer screen paralyzed with the sense of helplessness - and all I want to do is run – run to the aid of Haiti – and then do what?!
When I lived in Haiti as a Peace Corps Volunteer, it always seemed like the news was stretched a little and I was praying that this was also the case.  It was not until I saw the images on television that it sunk in - the rubble - people crushed alive, crying, wailing. That wailing – I remember it distinctly whenever someone died in the countryside: "Anmwe!" ("Help me!") Their whole bodies would be screaming – arms flailing about in the air, bodies collapsing into someone else's arms.  And that is what I was screaming, "Anmwe!" for how could I just watch and not do anything?!
Further into the news program, a girl was saved from under the rubble. She was trapped there for hours and even though there were others below her screaming, she said she was not afraid. And that is the Haiti I know – beautiful, resilient – the unpolished pearl of the Caribbean.  Haiti has seen worse: poverty, years of political unrest, environmental degradation, natural destruction – but nothing to this magnitude.
It is difficult for me to watch the news and hear the death toll rise, logistical bottlenecks keep the aid from getting to the people, and concerns about violence in the streets. However, it is good to see the response of the world and hear from family and friends wondering what can they do.
For those of you who can, please donate to:
-Partners in Health:  They run the Cange Hospital, one of the best in Haiti, and rapidly responded to the earthquake by providing medical care to victims.
-Doctors without Borders:  Currently providing medical care in Haiti, as well as countless other places around the world.
-Fonkoze:  The largest micro-finance organization in Haiti, providing small loans to Haitians to help them improve their lives and rebuild after the quake.
And if you are comfortable doing so, my company will match my donation to SOS Children, The Red Cross, The Salvation Army or the United Nations Central Emergency Response Fund (CERF) until February 28, 2010.  Even though my immediate reaction to what has happened to Haiti is a sense of helplessness, through my current volunteer work with Engineers without Borders in rural Haiti, when we can, we will be back on the ground working with the community transferring skills and knowledge allowing them to be sustainable. 
And of course, other former Peace Corps Volunteers were on the ground working with the Haitian people even before the earthquake.  For example, Laurie Knop (Group 2, 96-98) is the Executive Director of Quisqueya International Organization for Freedom & Development (QIFD) - a nonprofit organization that works on the grassroots level to advance political, economic and social rights and support development initiatives. They achieve this through education, research, advocacy and partnerships with local organizations. Other Peace Corps Volunteers are part of the Board of Directors for PAZAPA, whose mission is to support the treatment, education, and development of children with handicaps and to integrate them into their communities.  These are only two examples.
Haiti will never go away and I hope this international attention will provide more than just a band-aid, but will tap into the vibrancy and promise of what Haiti can become.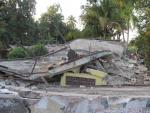 Mike Wilson (90-91) writes: I visited Leogane today.  Twenty years ago this house was built and I moved in as the first occupant.  I paid 50 Haitian Dollars per month.  This is what it looks like now.  I stood and cried until I was told by a friend that they now know why I came to Leogane all those years ago.  It was to help them today.  I am going to try and mount an effort to adopt an Internally Displaced Persons (IDP) camp.  It is going to be way bigger than me but I have no choice.  If you want to help I could sure use a hand.
Amanda Cauldwell (97-00), writes:  Finally a free moment. I'm in the U.S. Embassy in Port au Prince now, working both here and at the airport. We flew in and saw plenty of flattened buildings, then landed a short walk from the Embassy... which is in perfect condition. It's a brand new 3 story building, without even a crack on it - because it was built to American code. All around there are buildings and walls down.
We're divided into 3 teams and there are 3 shifts every day, so we're sixteen hours on and 8 off. I've never worked so hard. For the first half the shift I'm in the Embassy, then the second half out at the airport. The airport work is very dusty and fumey, but amazing at the same time. We're down on the tarmac, processing Americans and Haitians to board the Air Force flights to the US. Even last night there were still people walking through the process in a daze, some with bandages and carrying absolutely nothing.
At the Embassy in the mornings/afternoons I either do visas to help American's Haitian family members leave the country, or I'm outside doing prescreening. The other day they actually gave me a megaphone to use.  Can you imagine?  I can't tell you how many times I've heard the phrase "I haven't seen her since the event" or sometimes "since the catastrophe." Lots of parents, sisters, children, etc left the house the morning of the earthquake, and haven't been seen nor heard from since.
The State Department set up a special program for Americans who were almost through the adoption process here, so that they could bring their kids home.  You had to be practically at the very end of the process (no flying in and picking up a random kid). Last night at the airport there was an American man who said it had been a 2 year process to bring his adopted kids home.  I offered to take a photo, then when he looked at it on his camera he broke into tears.
We sleep in the Embassy.  They brought in some little mattresses for us to use.  It's a little hard to sleep though because there's always a shift on duty, and it's all cubicles so there's no quiet place to go really.  Thanks for the kind offers but I can't get mail or packages here, just emails. I really liked reading all the responses from my first email, I wish I could take more time and respond to everyone but sleep is precious here. 
That's it for now; I just got another assignment and have to get back to work.
Mason Robbins, (99-01) writes: Peace Corps is exactly how it sounds – its mission to create peace through mutual understanding between two countries, cultures, people.  I entered the Peace Corps when I was twenty-five.  I had only once been out of the country when I stayed with a Yugoslavian family in Nuremburg, Germany for a month when I was 18.  In Germany, a western culture, I only got a taste of culture shock, but in Haiti, I experienced it fully.  After five days of basic language, health and cultural training, I was placed with a Haitian family for the remainder of the ten week training.  Following the training, I was assigned to one of the most remote regions of the country, Jeremie, the capital of the Grande Anse.  During my service, I helped build a school, encouraged soil conservation, participated in Boy/Girl Scout activities and obtained a grant to cap two springs in my community. 
During my service, I learned much from the Haitian people.  The work I did there was insignificant next to the lessons and skills I learned through my intimate contact with the Haitian people.  Life in Haiti was difficult – no electricity, plumbing, gasoline-powered transportation, etc.  But through the trials and tribulations of dealing with a completely foreign environment and culture, I found that laughed harder and smiled more than I did while living in the United States.  I even fell madly in love with my wife Ernante, born and raised in Haiti who is, as of 2009, a newly minted United States Citizen.
The recent disaster in Haiti is heartbreaking.  I find that I don't have the ability to watch the news coverage of the disaster – it's too painful.  Many of the buildings I came to know in Port-au-Prince were reduced to chalk-white piles of rubble.  The sobering list of came out two days following the earthquake:  The National Palace – heavily damaged, The National Cathedral – gone, The Hotel Montana – gone, The Hotel Villa Creole – heavily damaged, etc – all buildings I knew well.  These were just the tip of the iceberg.  Many families living in poorly constructed homes lost everything.  Mind you, these are not insured houses.  These are houses built room by room as families made small monetary gains.  These people lost family members and every single thing they owned.  The images of people shown on television were worse.  I've seen suffering first hand in Haiti.  The enormity of this disaster is too much for me to watch.  It's enough for me to hear the groans of my wife watching television from the other room.
As I write this, the migration from the capital is in full force.  I, and other Haiti RPCVs, spoke of this migration from the capital days ago.  However, the means to arrive in the provinces is limited.  Last I heard from my wife's extended family, they were waiting at a Port-au-Prince wharf for transport to the provincial capital of Jeremie.  They had had very little or no food or water for more than a week.
The future of Haiti is somewhat uncertain.  The country has been haunted by the instability and fear from hundreds of years of political and economic insecurity.  Many a Peace Corps Volunteer fought this insecurity woven into both minds and culture.  Haitians now face a more basic fear – of the earth literally shifting below their feet. Please do what you can to help Haiti.
Wendy Hirsch (98-00) writes:  Haiti is a country of extremes, which demands a lot of you and rewards you immensely for the effort.  I discovered this while a Peace Corps volunteer from 1998 to 2000 working in and around Cabaret, Haiti. While visiting Haiti in early January, I photographed the children from my "lakou," or family compound.  I regret that most people are only exposed to the most negative of these extremes — dire poverty, environmental degradation, corruption, insecurity — and over the last week, the absolute horror that comes when you add a natural disaster to the mix. I don't deny any of these.  But I'm not going to write about them here. I want to talk about the other extremes of Haiti — beauty, vibrancy, kindness, gratitude, humor and lots of hard-earned wisdom.
I don't possess the literary gifts necessary to describe the grace that is Sunday morning in Haiti — regardless of religion, whether you go to services or not — it's a quiet and comforting time.  Nor can I adequately convey the gift that is Haitian drumming, or the life and energy that literally leap from the paintings. But I can share with you some Haitian wisdom, as conveyed through proverbs. 
I used proverbs a lot when I lived in Haiti.  They provided a bridge to understanding the culture, attitudes and thinking of Haitians — and usually got a laugh when delivered through the mouth of a small, blonde American woman.  Tenacity, effort, acceptance, practicality, hope and humor are all showcased in the proverbs — aspects of the Haitian people that I treasure and am privileged to share with you.
One proverb in particular came to mind as I learned of the earthquake last week:
W'ap fè'm monte nan sièl pado.
You're making me go to heaven backwards.
Here are a few of my other favorites… 
Chita pa bay.
Sitting doesn't get you anywhere. 
Piti piti zwazo fè niche li.
Little by little, the bird makes its nest. 
Yon sèl dwèt pa ka manje kalalou.
You can't eat okra with one finger. 
Men anpil, chay pa lou.
Many hands lighten the load. 
Tout moun se moun, tout moun pa menm.
All people are people. All people are not the same. 
Ou we sa ou genyen, ou pa konn sa ou rete.
You know what you have, you don't know what's coming.
Note: Wendy works at ChildFund International headquarters in Richmond, Va.  Her Haitian friends and family survived the earthquake.  Some are now homeless and some hurt, but as they put it: "We eat, we sleep. We can't complain."
Gerald Wayne Harrell (02-04) writes:  I was at a (tree) nursery conference in Ft. Lauderdale when I go the news.  I guess my first thought was to get to Miami and get on the next plant to Port-au-Prince but instead I left the conference the next morning at went home to San Antonio to be with Henriette and the kids.  I know Henriette had family in PAP including a brother and sister she is very close to.
After several days, we got word her brother and sister were OK but we lost an uncle, three teen-aged cousins and countless friends.  Henriette is handling things pretty well and the kids want to do anything they can to help.  I started an account at Capital One for friends, family and customers of The Garden Center wanting to help out.  The response has been tremendous and we've already sent two thousand to help out in Paillant.  For the most part, Paillant was spared a lot of damage but several houses did collapse, food is scarce, and lots of people for PAP are heading up to the mountains in Paillant.  Our immediate family who lived in Port-au-Prince is up in Paillant and everyone is still sleeping outside due to the fear of more aftershocks.
I've applied to no fewer that twenty relief organizations and Peace Coprs Response.  My Dad said he would come to San Antonio and take over The Garden Center if I get a call.  Honestly, I'm really more of a builder and I think my skills would be better used when reconstruction begins.  M'ap tann – I am waiting.  I know like you, the other RPCVs and folks around the world, my spirit just aches for Haiti.  I want nothing more than to make it better.  I especially feel for the kids.  I want so bad to be there and let them know everything is going to be OK. 
Lenny Teh (97-00) writes: I've been optimistic about Haiti since returning from a recent trip during Thanksgiving.  The country was stable and there were positive signs of development since I was there almost a decade ago.  I was particularly surprised to see new building construction in Petionville, the many traffic lights along Delmas Avenue, and a resemblance of order in the capital which I recall as being very chaotic.  There was even an effort to decentralize the government by building ministry offices in the provinces.  I was there on a medical mission as a translator and stayed a few days longer to visit my Peace Corps site in the Grand' Anse Department.  I had left my site exactly ten years ago to the month (December) and I didn't know what to expect.  I had heard that going back to your site is disappointing since you are now just a visitor, or "blan", simply passing through.  This was not my experience as I was welcomed back openly.  I was the "moun Chambellan", a person of the village of Chambellan, who had returned.  It was a homecoming and validation of an experience that had changed my life.  I had been riding a high about Haiti since then… and then the earthquake happened.
I was busy at work when I received a text that read "Big quake in Haiti!" immediately followed by another text "Do u know peeps still there" and "R u going?"  I thought nothing of it probably because Haitians are use to a lot of misery – i.e., the numerous political coups, deforestation, floods, mudslides, and the title of being "the poorest country in the western hemisphere".  I then checked the news online and that is when the devastation of the 7.0 earthquake hit me: a third of the population impacted, hundreds of thousands expected dead, images of the collapsed Hotel Montana where I had lived and where the UN workers were trapped, and the feeling of not knowing the whereabouts of friends living there.  This was a different misery and I immediately called my host brother in New York (the only member of my host family in the U.S.) who was frantically trying to get ahold of the family in Haiti.  The communication network was down; there was no news and there would be none for the next few days.  Although we eventually received word that all family members were alive, there were and still are many people from my village, which is one of the farthest points from Port-au-Prince, who are missing or confirmed dead.  This earthquake has impacted the entire country.
My friend Melissa Lin wrote a poem to me that best captures the feelings of these initial days: 
"I am angry, I am angry,
I will slay the enemy.
I am hungry, I am hungry,
I devour all I see.
I am frozen,
I am frozen,
I am solid as the lake.
I am broken, I am broken,
I have had all I can take.
I am weary, I am weary,
I will sleep beneath a hill.
I am driven full of sorrow.
I will weep and weep there still.
I am sleeping, I am sleeping,
I am dreaming fearful dreams.
I am dreaming of tomorrow
and the terror that it brings.
I am tiny, I am tiny,
and the universe is wide.
I will cross the whole world over.
I will find the other side.
You are angry, you are weary,
you are broken, you are lost.
I will build a bridge beneath you.
I will help you walk across."
I find comfort from the greater Peace Corps community and especially from my fellow-Haiti RPCVs.  This disaster has brought us together around Peace Corps third goal in promoting an understanding of Haiti's resilient people and its rich culture.  Instead of feeling helpless, we have assisted our beloved Haiti in its time of need through holding fundraisers, building awareness, or directly assisting the response efforts here in the U.S. or in Haiti.  As we do this, I am reminded of the Haitian proverb "Men anpil, chay pa lou" - many hands lighten the load.  And, as in this case, the burden of recovery is shared among all of us with connections to Haiti. 
I am hopeful for Haiti in the coming days, months, and years because Haitians are a resilient people and their culture is strong.  "Fok nou toujou gade nan direksyon kote soley leve a" – we must always look in the direction where the sun rises.  Sometimes it's easy to lose heart, but the sun will be coming up again tomorrow - let it encourage you to prepare for better times of sunshine rather than darkness. 
Bryan Schaaf (00-02) writes:  I had a Rotary Club Meeting at six o clock the night of the earthquake.  On the way there, Lenny sent me a text message about what had happened. I remember thinking to myself that at least we had not been hit by a major hurricane, with the inevitable flooding and mudslides it would have created.  When I got home at about nine o clock, I took a look at Twitter posts and pics.  It didn't take long to realize that the damage, both in terms of lives and livelihoods, was unprecedented. Port au Prince, Haiti's largest city, was shattered.  The Haitian government and UN forces had taken heavy losses.  The infrastructure required to get people and cargo in and out of the country was heavily damaged.  People with the means to do so started heading back to the countryside in droves.  Every family has been affected, many traumatized.  Right now it is still an emergency, the transition to recovery is being discussed.  But recovery is the wrong word.  Life will continue, but one does not truly recover from something like this.
Over the past year there were no hurricanes, infrastructure was being built, investment was picking up, and the government, while imperfect, was getting better at governing. Things were changing, we had momentum…and then this happens.  Haiti is now a very different country than the one I remember from my days as a Peace Corps Volunteer…but it is still Haiti, and so I and other RPCVs are still connected.
Crime is below pre earthquake levels which is something the media has not done a good job of conveying – fundamental decency is probably not the best angle for increasing viewership.  Haitians, ever generous, have been supporting each other, sharing what little they have, and taking in friends and loved ones.  Haitians are survivors and they will make it through this together.  They are strong in their faith.  Many, if not most, will come out of this with a stronger belief in God.  I can't say the same.  Here, as is often the case in emergencies, it is the women, the children, and the poorest who are suffering most. 
That having been said, my faith in people is reinforced.  Haitians are doing the best they can to take care of each other.  Concerned individuals and groups from around the world, even in this uncertain economy, have given generously of their time and money in order to save lives, reduce suffering, and to make possible a recovery of some sort.  I have never seen such an outpouring of genuine concern for Haiti.
Development in Haiti has been set back many years.  Deye mon, gen mon.  It will take a very large, long term international support, with a degree of coordination Haiti has not seen to date, in order to work.  Men anpil chay pa lou – but only when working together in a sustained and coherent way.  Haitians did not deserve what has happened to them.  What they do deserve is the best efforts of individuals, groups, and the international community to respond to this disaster and to work with the Haitian government and people to ensure that this loss of lives and livelihoods does not happen again – whether from another earthquake, a hurricane, or something entirely unanticipated.  

I also want to mention the work of Matthew Marek (00-02), one of the founding members of Haiti Innovation, who has lived in Port au Prince for several years, building the capacity of the Haitian Red Cross to prepare for and respond to disasters.  Matt was in the Red Cross office when the earthquake happened.  Part of the building collapsed, but he and his colleagues were able to escape.  Since then, he and other Red Cross responders have been working non stop to protect and assist survivors.  During the Gonaives flooding of 2008, his photos were the first to be widely disseminated.  Same with his earthquake response photos.  Take a look at the Red Cross website to see a public service announcement featuring some of them.  He has discussed the situation and needs on the ground with journalists and reporters.  Click here for his interview with CNN's Anderson Cooper.  The Red Cross, of which Matt is a part, is playing an important role in the emergency response, and it will continue to do so into the recovery phase.    
In closing, I would not be the same person without my time in Haiti.  I would not be living where I am and working at what I do.  I would also be more ignorant of the world around me.  The earthquake not only affected Haiti, it also shook the Diaspora of which we are, in our own way, a part.  We're still connected, still committed, and we are not going to give up on Haiti. 
If you also have a connection to Haiti, and would like to share how you have responded, we invite you to do so in the comments section below. 
Thanks!
Bryan