Redesign of the Haiti Innovation Website
Posted on:

11 May 2007

By:

Bryan Schaaf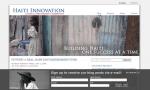 Over the course of the next two weeks, you will notice significant improvements to the Haiti Innovation Website. Members have repeatedly mentioned to us that they appreciate having access to a blog which provides an insider's perspective on Haitian development issues as well as having a source for technical expertise on questions relating to designing and improving projects and programs.
Concerning the blog, Members of the Haiti Innovation Community now have the option to receive them over email. A new search function will make blogs of particular interest to you easier to find. In addition, users can forward blogs to others who may be interested as well.  Spam was a problem previously but has been fixed - if you have a blog or an article that you would like to post, just send it to bryan@haitiinnovation.org and we'll put it up.
The website will state more clearly how Haiti Innovation can help you with technical expertise, advocacy, and partnership building. We will soon have a bulletin board function where members can network with each other to find employment, volunteer, or opportunities for collaboration.
Upgrades are being performed by Development Seed - a team of top-notch, socially conscious web designers who specialize in working with progressive organizations to carry out /*online advocacy, fundraising, activism, organizing, blogging, and podcasting.
It is not an exaggeration to say that Haiti Innovation would not exist without Development Seed. Development Seed has spent countless hours with the Haiti Innovation Board of Directors design, implementing, and continuously improving the Haiti Innovation website.
Haiti Innovation thanks Development Seed for the great work they have done and continue to do for Haiti Innovation and other organizations like us.
Thanks,
Chris, Rob, Matt, Bryan
Haiti Innovation Board of Directors