Happy Holidays from Haiti Innovation
Posted on:

22 December 2007

By:

Bryan Schaaf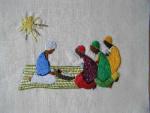 The New Year is a special time in Haiti.  The houses are re-painted, the soup joumou is cooked, and the church services run even longer than normal.   It is a holiday of hope.  With that in mind, Haiti Innovation hopes that you and your families will have a  healthy and happy holiday season.  
It has been a busy year, with reasons for hope.   Security has improved in Haiti and kidnappings are (overall) down.  Haitians in Haiti and abroad rallied against the research study suggesting that their country was the entry point for HIV into the United States.  The economy seems to be getting stronger though the cost of basic goods remains high.  Tentative steps have been taken toward engaging the Diaspora.
Our wish list is relatively unchanged - consolidate security gains, reach out to and recruit Diaspora, establish a nationwide jobs program, begin a national reforestation campaign, and make a concerted international effort to teach Haiti's history to the international community.  It has been too often forgotten.  
In our own small way, we intend to help with these issues and you will see some changes from us in 2008. The diversity of articles and the frequency with which they are posted will improve.   We plan to be increasing the size of the Board of Directors to about a dozen.  We will also proactively interview individuals with knowledge of Haiti's development issues. 
In particular, we hope to bring to you the opinions and knowledge of Haitians working for non governmental, international, and local groups.  Haitian voices on Haitian issues does not always come through (almost never comes through) mainstream media.  And of course, if you have a blog on an issue, please send it to us and we will be happy to post if for you.
With that, Bon Fet!  Here is to a better 2008, for Haiti and for the world.
Bryan