Haiti Food Security Update (6/29/2008)
Posted on:

28 June 2008

By:

Bryan Schaaf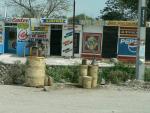 Maybe I should call this blog the Fuel Security update instead.  The big news this past week was the elimination of the government gasoline subsidy which drove fuel prices up to over six dollars a gallon.  With limited funds and infinite needs, the government decided to focus its attention on agriculture and other programs to fight poverty.  However, transporting food and other commodities (or oneself if seeking health care) is less affordable now and out of reach for many. The tap-taps are all charging more. Also, the price hike is eating into the budgets of the international and non-governmental organizations which are active throughout the country.  More money on fuel means less for programs.
The other major news item was that President Preval designated Michele Pierre-Louis, Executive Director of the well-respected organization FOKAL  (Foundation of Knowledge and Liberty) as his third nominee for Prime Minister.  If confirmed, she would be only the second female Prime Minister in Haiti's history.  Her close ties to George Soros (an asset if you ask us) and her sexuality may draw fire from some, but there is no disputing that Pierre-Louis is intelligent, dedicated, and honest.  There have been too many delays already.  Haiti needs a functioning government in order to implement reforms to address food insecurity and other pressing development issues. 

We often discuss the potential for jatropha and other non food crop biofuels for Haiti.  Why don't we approve of corn or other food based crops?  A recent OXFAM report estimates that food based biofuels such as corn may have driven food prices up 30%.  OXFAM has called on developed countries to dismantle subsidies for biofuels and reduce import tarrifs.  The aid agency also urged rich countries to eliminate biofuel targets, including European Union plans to get 10 percent of its transport fuel from renewable sources like biofuels by 2020.  In an op-ed piece in the Washington Post Vinod Kosla writes "All biofuels are not equal. Done right, cellulosic biofuels offer a scalable and economic way to reduce petroleum use and have a meaningful impact on the environment while benefiting farmers, entrepreneurs and consumers."

Interesting article in Bloomberg about how free trade policies are losing favor throughout the world.  Countries throughout the world, including Haiti, have come to the belated conclusion that the only way to feed their own people is to grow more food themselves rather than rely on cheap imports.  Let's be honest.  Haiti will never be a major food exporter.  There are some crops such as coffee and mangos that are lucrative and could be even more so, but self-sufficiency just makes sense for a food insecure country like Haiti. 

The article also covers the latest round of World Trade Organization negotiations launched in 2001 in Doha, Qatar. It notes the goal was to cut subsidies in rich nations and tariffs in poor nations, allowing the most efficient producers to sell to the world.  Robert Zoellick, the head of the World Bank, hopes to seal the Doha WTO round, phasing our subsidies and tarriffs.  Thus far, the global food trade has really never been free.  The United States and the European Union are certainly not keen on the idea of a level playing field which would cost their own farmers jobs.  If either the United States or the European Union won't sign on, the deal is sunk.

The Haitian government is finally serious about agriculture again.  If the prices of imported foods start to go down agan, I wonder if the sense of urgency will remain?  It is going to be a long term process, especially given environmental degradation and land tenure issues, but the stability of the country depends on it.
Also read an interesting article about rice production in the New York Times.  According to the pioneer of a rice growing method known as System of Rice Intensification (S.R.I.) harvests typically double if farmers plant early, give seedlings more room to grow and stop flooding fields.  Doing so cuts water and seed costs while promoting root and leaf growth.  As Dr. Uphoff put its, "...if we can't solve the problems of peoples' food needs, we can't do anything. This, at least, is within our reach."  As Haiti tries to revive its rice production in the Artibonite Valley, it may be a good time consider more efficient approaches to rice growing such as this one.  Sure, it may be more labor intensive but there is a huge number of people ready to work if given the chance.
As of yet no Prime Minister and no large scale reforms - but we hope that this will soon change! The Haiti Innovation team will keep you updated as always.
Bryan