Competitive Compassion - Corporate Philanthropy and Haiti
Posted on:

4 December 2007

By:

Bryan Schaaf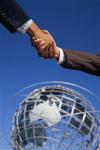 David Caprara and Robert Mallet, both associated with the Brookings Institute recently wrote an short and interesting article about Corporate Philanthropy 2.0 which you can read here.
There is a remarkabaly resilient tradition of philanthropy in the United States, which ranges from the recently deceased Haitiani janitor in Miami who gave away tens of thousands of dollars over the course of his life to the wealthy investor who knows that giving back is a social expectation.  It's a tradition that has been to the benefit of the United States, and often other countries as well. 
According to the authors, a decade ago international corporate volunteering was almost non-existent.  Since then, markets (and thus the world) have become more interconnected.  Now, 40% of major corporations have active programs and/or support employee volunteer efforts around the world.T he article goes on to state that the U.S. National Council on Workplace Volunteerism reports more than 463,000 employees volunteer, giving more than nine million hours of their time. 
Points are listed for successful corporate volunteer programs:
Set goals before roles: International corporate volunteering efforts are more successful when the business objectives have been identified in advance

Walk before you run: Corporations should first decide how to engage local communities where they do business or if they are prepared to start cross-border programs. Before beginning, it is important to consider the company's level of experience with international programs and interest in engaging in a particular country, along with local needs and volunteer capacity generation opportunities
Lead with leverage: Utilizing employees' core skills will have more bang for the buck in the volunteering program
Align with philanthropic and corporate social responsibility activities: Corporate volunteer programs should serve as an extension of a company's other philanthropic initiatives not as a separate effort
Partner proactively: Companies can save time and resources by partnering with the right organizations, such as a local NGO, to develop a volunteering program.
Invest in infrastructure: Companies that establish dedicated volunteering program management teams experience more success
Communicate clearly: Setting clear goals and explaining them to all parties involved will set the right expectations for corporate efforts and also establish a benchmark for measurement
Clearly, we are talking about more than clothes drives and bake sales - but about having a long term vision of an obusiness that taps the best qualities of employees, meshes with the organizational culture, and complements the strategic goals of the company.  If there is such a thing as Philanthropy 2.0, then capacity building must be what sets it apart from past approaches.
Maybe we should call this competitive compassion?  It is possible to have a genuine impact while  advacing the goals of a company.  Coca-Cola, with bottling plants in every country you could care to name, is keenly interested in water resource management.  So is a community whose water is drying up beause of erosion and diminished watersheds.  Haitian Banks might, instead of sprinkling money here and there without a broader strategy, decide to focus on microcredit loans for the poor, something which would help produce the next generation of entrepeneurs.
And let's face it.  Haitians are entrpeneurial.  Try surviving on less than a dollar a day for a month, and you'll soon see what i mean.  But the ability to transfer those skills and make them work in a globalized world, is a challenge. This made me think of opportunities not only for the Haitian Diapsora, who have one foot in Haiti and the other in another.  It also made me think of the international and national companies operating in Haiti. 
The American Chamber of Congress for Haiti was not much help.  It says that it is 'temporarily disabled' - yeah, for about 15 years temporarily disabled.   I looked at the World Bank website and it didnt tell me much except that Haiti is ranked  170th in business friendliness and that it would take me 200 days to start a business (formally). That is a little daunting - but all the same, I could not find a consolidated list of national and international businesses operating in Haiti so I decided to start one.  
Its by no means complete, but we can add to it piti piti. 
Banque Nationale de Credit 
Brasserie Nationale d'Haiti
Cement D'Haiti
Capital Bank
Haiti Communications S.A.
JMB SA (Mango Exports)
Promobank
Sogebank (also the Sogebank Foundation)
Solar Energy Products
Teleco (someday it will be privatized)
Finally, if you dont work for a corporation (or even if you do), the government may be able to help facilitate an appropriate exchange.  The USA Freedom Corps, as part of it mission, helps to place qualified volunteers with organizations the could benefirt from their services. 
Welcome your thoughts on the article or how Haitian companies, or companies operating in Haiti can partner for a better Haiti.
Bryan