USAID Announces Haitian Diaspora Marketplace Initiative
Posted on:

14 August 2009

By:

Bryan Schaaf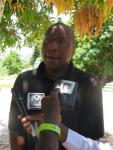 While speaking at the Haitian Unity Diaspora Congress, Acting USAID Administrator Alonso Fulgham announced the launch of the Haitian Diaspora Marketplace, a partnership between USAID and Haiti's Sogebank Foundation that will provide $2 million in resources to support investments by members of the Diaspora with small and medium enterprises in Haiti.  Fulgham served from 1984-1986 as a Peace Corps volunteer in Port-au-Prince, where he worked with the Government and local groups on export promotion.  More on his remarks here and the Haitian Diaspora Marketplace Press Release is copied below.  
HDM - Haitian Diaspora Marketplace
---
FOR IMMEDIATE RELEASE
August 11, 2009
Background:
USAID partnered with Fondation Sogebank to establish the Haitian Diaspora Marketplace (HDM), a two-year pilot program designed to encourage Haitians living abroad to contribute to Haiti's economic development by investing in Haiti. Diaspora entrepreneurs have unique human and financial expertise that is instrumental to the Government of Haiti's interest in advancing more productive public-private investments. This program allows for the creation and reinforcement of small businesses in key sectors, such as agriculture, tourism, assembly, and information and communication technology.
Objective:
The project's overall objective is to stimulate the Diaspora's direct investment in Haiti through a cost-sharing mechanism called the Haitian Diaspora Challenge Fund, which is aimed at promoting business opportunities, job creation and wealth generation via foreign and local business partnerships. This initiative will allow the Diaspora to more fully realize its potential for investing in productive business activities that will broaden and deepen recovery and creation of livelihood opportunities.
Activities:
The HDM will provide access to grant funding opportunities to Diaspora entrepreneurs and will also offer technical assistance to the businesses. The implementation phase of the grants component will include USAID contributions ranging from $50,000 to $100,000 U.S. dollars with a 2:1 minimum cost-sharing requirement. Grant applications must include business plans for sustainable activities that will be implemented with the participation of Haitian businesses. Competitors will also be required to provide detailed plans for sustainable business activities in Haiti. Business development and other technical support will be available to the grantees. As part of this initiative, credit guaranty programs with local Haitian banks will provide improved access to credit entrepreneurs from the Diaspora.
Funding:
USAID support: $ 2,000,000
FSGB support: $ 500,000
Other international donors, as well as private sector foundations or businesses, have been invited to contribute to the fund.
Life of Program:
Project will be implemented over a two year-period from July 2009 to July 2011
Implementing Mechanism and Partner:
The HDM will be implemented by Fondation Sogebank while partnering closely with Haitian public authorities such as the Ministry of Commerce, Agriculture and Tourism.
Anticipated Results Over Life of Program:
At the conclusion of this program, HDM will have supported the creation and/or reinforcement of approximately 20 local businesses, particularly in regions outside of Port-au-prince, in key productive sectors through the transfer of knowledge and capital by Haitians living abroad, This pilot project will be a stepping stone for not only Fondation Sogebank but also for other financial institutions to facilitate business investment by the Haitian Diaspora.
For more information about USAID and its programs, go to www.usaid.gov.
---
The American people, through the U.S. Agency for International Development, have provided economic and humanitarian assistance worldwide for nearly 50 years.