Haiti Ranked Fifth on 2011 Fragile States Index
Posted on:

20 June 2011

By:

Bryan Schaaf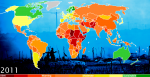 The Fund for Peace and Foreign Policy Magazine released the 2011 Failed States index today.  Of 177 countries, Haiti was ranked the fifth most vulnerable when compared against twelve key social, economic, and political indicators.  Few would dispute Haiti's fragility.  Still, the index does not convey that Haiti has major assets, such as its Diaspora and potential for economic development.  Improvements depend in large part on the extent to which Haitian civil society and the international community can have confidence in the leadership of the Haitian government.  A fair assessment or not?  Please feel free to post your thoughts in the comment section. 
For Immediate Release:  Monday, June 20, 2011
Failed States Index 2011 
Somalia Ranks Number One For the Fourth Year in a Row 
Somalia once again tops the list as the world's most troubled state, according to the 2011 Failed States Index (FSI), a collaborative effort between The Fund for Peace and Foreign Policy magazine. For four years running, Somalia has ranked at the top of the FSI, largely through a combination of widespread lawlessness, ineffective government, terrorism, insurgency, crime, abysmal development, and pirate attacks against foreign vessels. Rounding out the top four are Chad, Sudan, and the Democratic Republic of the Congo.
This year marks the 7th annual Failed States Index, a significant barometer of the world's most troubled countries and widely cited by everyone from major news agencies to leading NGOs to the U.S. Department of State. The 2011 edition of the index includes a powerful reminder of why dictators matter from Paul Collier, a provocative "Think Again" from James Traub, and a poignant call for action from Stewart Patrick -- as well as a stunning collection of photos of some of the most fragile places on Earth. This year's special section of Foreign Policy devoted to failed states, is available on ForeignPolicy.com
Haiti suffered the greatest decline in the 2011 FSI, shooting to 5th place on the index, mainly due to the massive earthquake that devastated the country in January 2010. Natural disasters have posed challenges for other states as well: Earthquakes in Chile and New Zealand, floods in Benin, and drought in Nigeria all contributed to lower scores in those countries. Several European countries, including Greece and Ireland, also saw their performance decline in the 2011 index as they struggled with the ongoing economic and political fallout of a continent-wide debt crisis.  Two-thirds of the countries in the FSI improved their scores in 2011. Georgia is the most improved, reaping the benefits of greater transparency and a government crackdown on corruption -- as well as the reduced threat of conflict with neighboring Russia.
The 2011 Failed States Index ranks 177 states according to 12 social, economic, political, and military indicators based on data from more than 90,000 publicly available sources. A listing of the 60 most vulnerable countries is featured in the July/August 2011 issue of FOREIGN POLICY. For a complete ranking of all 177 countries, methodology, data sets, and frequently asked questions, please go to www.fundforpeace.org. An interactive database is available year round on the FP website.
About the Fund for Peace: The Fund for Peace is an independent, nonpartisan, 501(c)(3) non-profit research and educational organization that works to prevent violent conflict and promote sustainable security. The Fund for Peace promotes sustainable security through research, training and education, engagement of civil society, building bridges across diverse sectors, and developing innovative technologies and tools for policy makers. A leader in the conflict assessment and early warning field, the Fund for Peace focuses on the problems of weak and failing states. Our objective is to create practical tools and approaches for conflict mitigation that are useful to decision-makers. 
About Foreign Policy:  Founded in 1970, and now published by the Slate Group, a division of Washington Post, Newsweek Interactive, LLC, FOREIGN POLICY is the premier, award-winning magazine of global politics, economics, and ideas.  In January 2009, we re-launched our website as a vibrant, daily online magazine with new breadth and depth to our incisive reporting: www.ForeignPolicy.com.  
For More Information, Please Contact:
Kate Brown, Foreign Policy Magazine
202-728-7316 or kate.brown@foreignpolicy.com
J.J. Messner, The Fund for Peace 
202.223.7940 Ext. 206 or jmessner@fundforpeace.org