Conde Naste: A Love Song for Haiti
Posted on:

19 August 2009

By:

Bryan Schaaf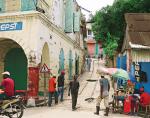 Although one would not know it from most mass media coverage of Haiti, it is a beautiful, little country.  For that reason, I was happy to read Amy Wilentz's excellent article in Conde Naste.  She describes her own love affair with Haiti and then lists where a person can stay and play.  As I read it, I thought of all the things I miss about Haiti - the sandy beaches, drinking rum punch, listening to racine music, going to vodoun ceremonies, napping on straw mats, talking on porches, as well as the countryside camraderie and never-ending jokes and pranks.  For some, it is time to visit Haiti for the first time.  For many of us, it is time to go back.           
Love and Haiti
You can call Haiti the Cleopatra of countries—its ravishing natural assets, thrilling history, and magnetic culture have long made select visitors swoon. Its tortured past, however, has made it the Caribbean nation that tourism largely forgot. But this, reports Amy Wilentz, may have to change
This is a love song. It's a Haitian love song, played on three drums and an electric slide guitar that never sounds quite on key. No question, you can dance to it.
I'm writing this song not just for me but on behalf of the thousands who have come to Haiti over the centuries and been touched by it, moved by it, even changed forever: the writer Zora Neale Hurston and the abolitionist Frederick Douglass, who was the first U.S. ambassador to Haiti. The actors John Gielgud, John Barrymore, Richard Burton, and, more recently, Danny Glover, Julia Roberts, Matt Damon, Brad Pitt, and Angelina Jolie. I'm writing for rock stars Mick Jagger and David Byrne and for rapper Wyclef Jean (who's actually Haitian-American, and who introduced some of the aforementioned to his homeland), and for the great anthropologist, physician, and author Paul Farmer.
I'm also writing this love song for Maya Deren and Katherine Dunham, both of whom documented traditional Haitian dance and were bitten by the Haiti bug. This song goes out, too, to director Jonathan Demme, whose son was named after a Haitian shantytown, whose walls are covered with Haitian art, and whose films always have a Haitian touch. In this eclectic group are other writers, also: William Styron, Lillian Hellman, and Haiti's greatest foreign fictionalizer, Graham Greene.
Let's not forget eternally optimistic Congressman Dick Durbin, longtime lover of Haiti, or Bill Clinton (the third U.S. president ever to visit—and now the UN's special envoy to the country), or Jimmy Carter, who came to monitor elections, or possibly the grandest of foreign dignitaries who fell for Haiti, Franklin Roosevelt, who drafted one of the country's many constitutions (that's how we conducted foreign policy back then) and was the first U.S. president to visit—in 1934. Hats off, too, to the late pontiff Jen-Pol Dè, as we write his name in Creole; he came to Haiti during the time of the dictator Jean-Claude "Baby Doc" Duvalier and said that things had to change.
Not to be too arrogant, but I am also writing this song on behalf of Christopher Columbus. Haiti is not a place you just visit, as Columbus would surely have told you (he shipwrecked there in 1492). It's not a stream into which you just dip a toe. Here, you dive in headlong. It drives you crazy—with love, with anxiety, with desire. You fall into its arms as if it's been waiting forever to receive you.  It hasn't. And as with any great unrequited love, Haiti's indifference only makes you crazier for the place.
Haiti is the Cleopatra of countries, a destination unparalleled on so many levels. It has eccentric history and a tri-continental culture. Its syncretic art is singular and explosive, tender and transcendent. In Haiti, even a pile of garlic for sale, a row of plastic bowls from Taiwan, a display of brassieres (locally manufactured), black bags of charcoal standing at drunken angles cheek by jowl, can be a delicate, devilish masterpiece. There is an ethos of making do with what you have that leads to an ability to make much out of little, to make magisterial statements out of the least materials: With two or three beans, a chicken feather, an old rag of worn-out satin, and a hollowed-out gourd, a voodoo priest can make a whimsical charm that wards off evil.
For sheer unspoiled physical beauty, no place can beat Haiti—from white cliffs that rival Dover's to untouched islets, from the fertile Artibonite Valley to cresting emerald mountains like brawny-shouldered Herculean brothers one after another, and from long white beaches to blue pools set improbably in a crackling-dry forest. To say nothing of its handy location: The Pearl of the Antilles, as travel agents called Haiti in its tourist heyday back in the 1940s, is just a dropkick off the coast of Florida. Yes, of course there is deforestation, and desertification, and all sorts of problems, both ecological and man-made and often both. But if you travel to the magical, transforming heights of the piney forests of the mountain above Port-au-Prince—the capital city that's speckled with slums and racked by occasional unrest;even it looks like a sparkling fairyland.
Which it's not. Downtown is like this: You can't tell what's old or new because everything is crumbling, and—as in other developing nations—new two- or three-story buildings sometimes get only halfway constructed before the workers leave because the builders ran out of money. Low buildings often have hopeful rebar sticking out toward the sky like exposed bone. Overnight, it seems, entire new slums receive people moving into town from the countryside. Here's one climbing up a crevasse like a Cubist canvas being painted before your very eyes. Like guardian angels, two inflatable Santas stand in a broken corner of a new wall—for sale, of course—and look out impassively at the standstill traffic.
On another corner, two African officers from the United Nations Stabilization Mission in Haiti (known as MINUSTAH) stand a different kind of watch. It is MINUSTAH's job to keep the peace, although Haitians complain that the UN officers have come down selectively on certain political elements. The two officers peer inside cars as the traffic inches by. Formed in 2004, after the rough ouster of the democratically elected but controversial president Jean-Bertrand Aristide, MINUSTAH has been begrudgingly tolerated by some as a bulwark against crime. MINUSTAH soldiers can also be seen tootling around Port-au-Prince in pickup trucks—two guys in the bed pointing a very serious piece of artillery out at the Haitian population. This, as many have noted, makes it hard to distinguish whether you're being threatened or protected. In Haiti, this kind of ambiguity is pervasive.
The best-kept and most beautiful wall, gate, and garden belong to Haiti-Securité Assurances, a company that provides vehicles, drivers, and armed bodyguards for visitors and locals, from dignitaries to just plain Haitians who come back for vacation. Not everyone hires protection: I did not—I hired a driver who knows the place well and left it at that. Wyclef does use security, of course. Clinton does. Ban Ki-moon does. For a normal trip to Haiti, Wyclef hired 120 security people.
Pétionville, just a few thousand feet above the bewilderment of downtown, is a traveler's dream in many ways. Although this wealthy suburb seems cut from another cloth, it retains enough that's authentic to keep it interesting. Here's where the fancy restaurants are and the good boutiques. The dazzling art galleries are strung out in the blocks around the central intersection, Place Boyer, named after the president who signed Haiti into debt for a century. There are electronics stores, big supermarkets, and small specialty shops, as well as crafts stores like Gingerbread and Men Nou, which do business with Haitian artists who create the most beautiful things, among them radiant sequined voodoo flags big enough to fill a wall, featuring the gods of marriage, the seas, agriculture, love, and the cemetery, and detailed like a Hieronymous Bosch, as well as baroque found-object sculptures from a school of Dickensian sculptors—both grown-ups and children—who live and work in crowded conditions down on Grande-Rue, next to the old market and the slums.
One day I go to lunch at La Coquille, in Pétionville, with Jean Cyril Pressoir, who runs Tour Haiti, a small company he founded in 2004. La Coquille is so Haitian that it's almost too much. As Cyril says with a shrug, "It's very typical." The chairs are wooden and painted blue. On the tables are bright cloths, the walls are pink and blue, the windows framed with shutters. Lunch, served buffet style, might be riz nationale, which is rice cooked with red beans, tchaka soup (with corn, beans, and pork or oxtail), poulet kréyol, poisson gros sel (fish with onions, herbs, and salt), griot (super-fried marinated pork bits), and many other traditional dishes. The crowd is plump, local, prosperous. The hot spices make you a little warm, but a nice breeze is wafting in, and Prestige beer is flowing. It's all trés Caribbean.
Cyril is running tours around Haiti. He's setting up his own fleet of tap-taps, the colorful Haitian buses, and has hired local artists to decorate the vehicles. He wants everything very real. On one tour, he'll take you and your group in his tap-taps down to the southern town of Aquin. You'll stay at a small hotel ("Clean and basic," he says, "not fancy") and eat marinated oysters, then go down to the town square to a place where you can drink and dance. The next day, the tour will take you to Morisot Beach, and you'll go island-hopping by boat.
"We do a major stop at a deserted beach," Cyril says. "We bring a cooler and water, and we have a totally local lunch on a fishermen's cay, with plantains and boiled or grilled fish or lobster. Then we go to a bird-watching cay. At the end of the day, we look back from a high point down onto the cays we've visited." He takes people to nightclubs in the provinces and to play cards and dominoes, and then to a cemetery to see a voodoo ceremony, or to a cockfight or a bassin, one of the inland pools that dot the island. "Then we walk back to a creek and have a picnic under the mango trees." He sounds as if he's fantasizing, but it's all real.
I find myself longing for a trip like this—all pleasure, sand, and sun. The problem is that the hard life of Haitians interferes with my enjoyment of the country's beauty. When I'm having a dish of poulet kréyol in Jacmel, or a big bowl of tchaka with Cyril, I can't help but be disturbed by the idea of all the Haitians who are not having this meal. Who are not having a meal. Who maybe haven't had a meal in twelve hours.
But as Cyril points out, one of the fastest ways to create jobs and help people in Haiti is to spur tourism, especially the non-exploitative, socially friendly tourism that Tour Haiti envisions.
There's a stop on a Royal Caribbean cruise that's called simply Labadee®. The real name of the place is Labadie, a fishing village on the northeast coast of Haiti, but the cruise line has registered the name in the Anglicized form. Although Royal Caribbean now acknowledges that Labadee® is actually in Haiti, when they describe it in their literature and on the cruise, they say only that it is on Hispaniola, the cartographic name Columbus gave to the island that includes both Haiti and the Dominican Republic. At Labadee®, everyone gets off the ship and spreads out over a gorgeous white beach. Royal Caribbean even offers a drink called the Labaduzee. Many cruisers never realize they are in Haiti.
Haiti, the birthplace of black power, is unique in the Caribbean. In 1791, Haitian slaves, led by Toussaint l'Ouverture, rose up on sugar plantations throughout Haiti against Napoleon and their French masters. After a protracted and bloody war, the former slaves declared independence from France in 1804—a year after Toussaint died, cold and alone, in a French prison in the Jura Mountains. The French withdrew. Just a year earlier, this by now more than a decade old military engagement, so costly and distant, had forced Napoleon to sell the enormous Louisiana Territory to the youthful United States. With one elaborate stroke of the imperial quill, the First Consul turned the United States, a former British principality, into a continental and world power. In a very real sense, America owes its greatness to a courageous band of eighteenth-century rebel slaves.
As for Haiti, it fell into poverty and remained economically isolated. France did not recognize its independence until 1825, compelling Haiti to pay 150 million francs (about $25 billion in current U.S. dollars) for damages incurred during the revolution. This agreement to pay reparations, signed by President Jean-Pierre Boyer, contributed to Haiti's impoverishment well into the twentieth century. It is argued that the already strained Haitian economy never overcame the crushing weight of that debt.
Because of its revolution, and consequent pariah status among the white nations of the world, Haiti has remained largely undiscovered, known only to a few elite outsiders (artists, dancers, writers, anthropologists, journalists, businessmen, free spirits, diplomats, development workers, missionaries, and adventurers) willing and even eager to brave the country's centuries-old reputation to find out what lies beneath.
"I mean, Haiti has culture, it has music, it has white sand beaches that have barely been touched," Wyclef Jean says. "But nobody knows this yet." Jean is at Platinum Studios in New York, eating his dinner and chatting on the phone. But as ever, he's thinking about Haiti. He knows about its poverty because he grew up in a village outside Port-au-Prince, but he also knows Haiti as a playland because when he goes down to visit—he does concerts where tens of thousands come out of the shantytowns to listen to his music—he takes time off to fly out to the spectacular islets scattered around the coast like sparkling little satellites: Île à Vache, La Tortue, and even, he points out, the larger La Gonâve, which is very poor and very beautiful.
"The future for Haiti, for tourism there, is very bright," he says. "Once it's discovered." He laughs.  One day, early, I set out for Ranch Le Montcel, a new hotel described as a vacation horse ranch—a new concept in Haiti—located on the mountain that crouches over the capital like a vigilant guard, wearing a hood of clouds and fog in almost all seasons. Farm people from the interior are finishing their long march from on high to the markets of Pétionville. As I ascend in my giant, noisy, white four-by-four, they descend on foot in silence as if headed for a funeral. One woman, a tall person with a somber regard and a woven basket on her head, wears a T-shirt that reads, EASILY DISTRACTED. T-shirts almost always provide unintended commentary here, where cast-off clothing from the United States is sold by the pound and many of the people who buy it are illiterate.
The Baptist Mission in the town of Fermathe, farther up the hill, where there are bunches of very white visitors on religious mission, is a pleasant place to get a snack and use a rare bathroom. With a jar of mamba (Haitian peanut butter—I like the one with hot pepper mixed in) in my bag, and a cup of strong Haitian coffee in my bloodstream, I proceed up to Fort Jacques, sister of the more legendary Citadelle La Ferrière, which is up near Labadie. These mountain fortresses, scattered around the country in various states of renovation and disrepair, show how frightened Haitians were about a return to foreign control and enslavement. The walls, made of fitted masonry, are several feet thick and come complete with secret passageways, soldiers' barracks, cooling water systems, and of course dungeons. Fort Jacques looks down over Port-au-Prince, its twelve cannons aimed at Haiti's greatest harbor and the surrounding countryside. But for more than a century after the revolution, no foreign power came by sea to retake Haiti.
Out again on the winding dirt road on the way to Le Montcel, I feel—even in my bulky four-by-four—as if I'm climbing stairs rather than riding on tires. I pass the Glory to God depot and the Red Pelican Bazar, a general store housed in a cast-off freight container with a door cut out of the side. Around and ahead of me are trees, ghostly in the cloud cover, and down below is sunshine. As in a Haitian painting by the master Préfète Dufaut, people in bright clothing dot the roadside nearby and far off, walking single file. The fog opens for a moment—on terraced hillsides, coffee plantings, and a tiny village with more people walkin—and then closes again. I put on my sweater. A boy with a bag of rice on his head wears a T-shirt that says, LET'S PUT ALZHEIMER'S BEHIND US. Down the road hurtles a red-and-green tap-tap; its name is To Be or Not to Be. On the back, as it fades into the fog, I see written the words, as on so many of these chipper, death-defying jitneys, MESI JEZI ("Thank You, Jesus").
When I arrive at Le Montcel, it's closed. It is Thursday, and Le Montcel is more a weekend place for Haitians than a resort for weeklong vacationers from abroad, but that should change. After declining for the past twenty years, tourism in Haiti is on the upswing. The World Travel & Tourism Council predicts that over the next decade, tourism will grow from its current 6.9 percent share of GDP to 7.1 percent. That's not such a big leap, obviously, but an upward trend is, in Haitian terms, a remarkable thing, and cause for moderate optimism.
Le Montcel is unbelievable, unthinkable. It looks like an Adirondack resort: Amid lush greenery are tennis courts and lovely, simple wooden cabins with long balconies. Le Montcel has its own reservoir, stables, and a great house built of stone with a peaked red tin roof, ivy-covered walls, dormers with paned windows. There's also a game room and a soccer field as well as Ping-Pong tables, wine caves, big fireplaces, conference rooms. It's unlike anything you can find at sea level, in the heat and sun of the tropics.
"Either you hate Haiti from the first time you come, or you love it," Christophe Lang says. He's thirty, and he and his family have run Cyvadier Plage, a hotel on the outskirts of the beachside town of Jacmel, for at least fifteen years. "If you love Haiti," he says, "you can't get it out of your skin."
We're sitting on the terrace of Cyvadier's restaurant, watching the sun set over the Caribbean. A TV is on over the bar. Some inane Haitian show is on; the television hostess is wearing red sequins. I ask Lang what kind of people come to Haiti.
"Oh," he says, "people who used to go to the D.R. and are sick of it. Germans, Englishmen. Beyond your nice hotel room, Haiti is a strong experience. Possibly it's not quite ready for average tourism. The culture shock can be hard on people." Lang is a real son of Haitian tourism. His father was a German who led charter tours to Jacmel from the Dominican Republic and the United States in the 1970s, and his mother was the head waitress in a popular restaurant called The Pub. He grew up near Frankfurt and studied cooking in Hamburg.
The beach at Cyvadier is in a little cove at the foot of a set of stone stairs. At sunset, the water is pink and gray. A woman has parked herself here and laid out jewelry across a bit of old stone: Now the beach is a shop! The rocks that surround the cove are tattooed with bad Haitian art for sale—pictures of fat peasants (of which there are virtually none in Haiti), pictures of wild animals (ditto) in abundant jungles (ditto): Now the beach is an art gallery!
On the sand nearby sits a small blue-and-red fishing boat called Victwa Malerèz ("Victory of the Poor"). A silent fisherman sits on the gunwale, wearing the bleached-out gray T-shirt and gray shorts of poverty, with a fishing net slung over his shoulder and a machete in his hand, the tip of the knife touching the sand. From under the brim of his gray baseball cap, he watches the fiery sunset.
It's a trademark of Haitian tourism that you are never far from the Haitian people, whether they are sad and quiet, like this fisherman, or squawking and riotous, like a gaggle of market ladies, or simple and dignified, like the pedestrians up near Le Montcel. You're on a beautiful beach near Cap-Haïtien, say, stretching out, recovering from the potholed trip north, imagining yourself to be on just any old beach in touristland, when out of the trees wanders a bunch of stick-thin kids to surround you and comment on your bikini while asking for a buck or two.
"Haiti has been a problematic destination since 1791," says Tourism Minister Patrick Delatour, referring to the revolution. "You know: 500,000 Negroes running naked in the woods and claiming to be free." He cackles. "Oh, man, how could they? And speaking French!" He's sitting in his office on Port-au-Prince's main governmental square, at a round table strewn with tourism brochures, maps, and blueprints; the tourist magazine Logo Plus (motto: "un concept, une aventure, une découverte"); and documents of all kinds. Outside, in the park below, is the statue of the Unknown Rebel Slave (like the Unknown Soldier in the Western world), who is blowing on a conch shell to summon his comrades to revolution. There is nothing wild or revolutionary about Minister Delatour, however. He is affable, businesslike, a tall, athletic man in a suit.
In the late 1990s, Delatour tells me, he developed a master plan for tourism in Haiti. (He's been minister of tourism before, and is an architect by trade.) He likens the Haitian situation after the ouster of Aristide to that of Jamaica after another popular leftist president, Michael Manley, lost power.
"After Manley, no one came to Jamaica anymore," Delatour says. "So the travel business there began to develop local destinations, and when those became somewhat known, they attracted an international clientele. And then it got bigger and better known, and then they could say: 'Come back to Jamaica!'" This, he says, was how the Jamaicans began to cultivate well-known spots like Negril—places far from Kingston, Jamaica's famously tough and fractious capital. First bring in local traffic and islanders living abroad, and then, voilà!
"This is what we want to do," he says. After the locals, Delatour hopes to attract Haitians living abroad, of whom there are about four million, and add to that what Delatour calls "ethnic tourism," the larger African diaspora. But with each of these steps, Delatour acknowledges, tourism infrastructure, attractions, and accommodations must also advance several notches.
Right now, Delatour is working with Royal Caribbean on a project in the north that is to include dredging a harbor and building a port and new roads—one of them a highway to be made in part from locally available shells, another example of Haitians making do with what they have. By December of this year, Royal Caribbean will be bringing in some six thousand visitors at a time on the Oasis of the Seas, which Delatour describes as "the biggest boat ever built as a cruise ship." That's more than twice as many as currently come into Labadee®. The Haitian government is investing fifty million dollars to ready a port at Baie d'Acul, near Cap-Haïtien, to receive the larger vessel. Royal Caribbean is lending half the money to Haiti, and the government intends to pay it back with revenue from tourism taxes. This way, Delatour says, Royal Caribbean gets paid, Haiti gets tourists, and the Haitian people get jobs and money and development.
The new ship will mean a different kind of tourism for Royal Caribbean and for Haiti. "Labadee® is basically a beach concept," Delatour says, "and a beach concept cannot receive six thousand people at a time and reasonably expect to make them happy. We have to diversify the tourist product. . . . We want to make it possible for people to visit the Citadelle, Sans Souci, and Cap-Haïtien, the second-largest French-designed city in the Americas, with the biggest collection of gingerbread houses.
"Sure," he concedes, "Cap-Haïtien is something of a wreck. It could use some paint. But on the other hand, you can sell 'wreck' as a tourist product," Delatour says, ever honest, ever the optimist. "How many people in Sweden have ever seen a city in wreck?"
This may be a kind of "poorism," but Haitians will always make do with what they have, always make the most of what's available.  Wyclef, au contraire, is having none of it. He is not selling "wreck."  "Sure there's poverty in Haiti," he says, "in Port-au-Prince. But the best white sand beaches in the Caribbean are in Haiti. When people see them, they think they're on another island—but they're in Haiti. This is where Wyclef Jean comes in, who's proud of being Haitian." Wyclef has plans to involve himself directly in Haitian tourism. His investment company, the Jean Group, is developing business models for tourism in Haiti.
"We want to build a great resort in Haiti," he says. "The country needs good branding. It needs to be branded with its culture, its art, its music, and its history." Haiti has waterfalls that are reputed to cure all maladies, he points out. It has beaches from which the buccaneers set sail in the 1600s.
"What could sell better than that?" Wyclef asks. "The original pirates of the Caribbean. . . ."  It's true that Haiti's beaches are very attractive. And Wyclef's emphasis on art and music is not surprising to anyone who's looked at the patterns of Haitian tourism. Every time Haiti has experienced a tourism uptick, it has been art, music, and traditional culture that have led the way—those attributes of the country, plus a moment of political stability. Thus, from the 1930s through the 1950s, when the economy was expanding, Haiti began to fascinate the leaders of the Harlem Renaissance, and dealers and collectors began to purchase its naive art. Then the dictator François Duvalier came to power, and many of these successes fell apart. When Duvalier died in the early 1970s, people began to come to Haiti again, even though he left the country's rule to his son, Jean-Claude, another dictator but with a less bloody reputation.
Today, Delatour and others are clearly counting on another period of stability to warm the tender shoots of tourism that are showing in Haiti's rocky soil. Perhaps now, with Obama in the White House and Clinton as the UN's special envoy (an entirely new post), the American relationship with Haiti will be less toxic and good things may come of it, as opposed to the usual inebriating but poisonous brew of political repression, rebound revolt, and unrest in the streets. Certainly things have been relatively calm since Aristide was shoved out, but no one is sure whether it's an artificial calm created by MINUSTAH's presence or something more enduring.
Celebrities with deep pockets and big ambitions may be of some use in a country like Haiti at a moment such as this. A group headed by Wyclef, for example, is doing relief work in Gonaïves. The project should give about five hundred Haitians food in exchange for work removing mud from the hurricane-plagued town. With the mud, Wyclef's people plan to construct a huge concrete concert platform outside Gonaïves, where Wyclef, among others, can perform, and which would also, it is hoped, serve as higher ground during storms.
MINUSTAH is playing volleyball on the beach. The peacekeepers like to party. It's sunset at Club Indigo, on the sandy western shores, just off the road between Port-au-Prince and Gonaïves. Formerly the Club Med in Haiti, the hotel is now privately owned by Haitians. It's a little down-at-heels, but the open-air construction, spacious walkways, and huge pool make it seem luxurious. So much space for so few people!
After an early dinner, I'm perched on a low wall between the pool and the beach. The beach is wide and pink in the setting sun. It sends up little sparkles; I can almost confuse it with the shimmering stretch of pale water that separates the mainland from the dark hills of La Gonâve, the island looming like a brooding behemoth between me and the horizon. There could be a famine unfolding on La Gonàve right now—there have been in the past—and I would never know it, sitting here. As usual, I can't keep the rest of Haiti off my mind in these situations. Relaxing on the beach, I think of disaster. I recall that Wyclef always mentions this big island when he talks about locations for future resorts. To my right, a man and a woman have pulled their beach chairs close together. They are drinking tall drinks and whispering, their heads bent toward each other as if contemplating conspiracy. She's in a bikini. He's smoking a cigarette.
The game unfolds enthusiastically before me in a mix of languages—English, French, Nepalese. . . . The volleyball players are wearing bathing suits and T-shirts and seem as clean-cut and cheerful as a bunch of surfside Californians. "Okay!" I hear one shout. The sun is sinking behind La Gonâve. A man approaches to sell me some cheap homemade jewelry dangling from his hand—a conch necklace, something made of coffee beans—but I wave him away with a shake of my head and a non, non motion with the right index finger that, I've learned from French friends, is very effective. It works!
I find myself wishing, suddenly, achingly, for a Labaduzee, whatever that may be.
Haiti: Where to Eat, Play, and Stay
Tourism in Haiti may be on its way back, but service can still be highly erratic. What counts is location, good will, and cleanliness. If you've got a view of an uncrowded beach or a stretch of the rooftops of a colonial town, plus laundered sheets, screens, running water, and good local food (and maybe a glass of chilled wine), you'll be satisfied, even delighted.
Most travelers hire a guide who also serves as translator and driver. Small towns like Aquin, Les Cayes, and Jacmel have vibrant downtown life; without a guide you could miss the domino games in the central square, merengue dance clubs, voodoo services, and the best fried pork.
Jean Cyril Pressoir of Tour Haiti plans trips to the island's most beautiful islets, with stops at local restaurants and family-style hotels (509-2257-1926; tourhaiti.net; full-day tour, $90). Jacqualine Labrom of Voyages Lumière Haiti is equally capable (2249-6177; full-day tours, $125-$250). Bring U.S. dollars for street spending and expect to exchange money on corners (your guide can do this for you). No one changes money at a bank. Most hotels in the capital will take credit cards, but out of town it's hit-or-miss.  The country code for Haiti is 509. Prices quoted are for September 2009.
Most visitors stay in Pétionville, a suburb of Port-au-Prince. The Villa Créole has a hillside location, gardens, and Internet access (2257-1570; doubles, $150-$180). The Karibe is a business hotel with spacious rooms and the tranquil Botanik Spa (2256-9808; doubles, $110; hour massage, $88). The Hôtel Montana is set away from the bustle, with standard rooms and luxurious junior suites. Its restaurant, Panorama, serves good Haitian fare—a hybrid of French and Caribbean cuisines. Book a room facing away from the main courtyard and its late-night festivals and parties (2229-4000; doubles, $150-$205; entrées, $14-$27). Le Plaza is the best place within a stone's throw of the Presidential Palace (2224-9308; doubles, $85-$95).
Nearby, the venerable Hôtel Oloffson can no longer be recommended for its rooms but from the veranda bar and restaurant you can hear street life and sit among a rarefied expat clientele, sheltered by the palm fronds. The proprietor's band, RAM, a big draw, plays on Thursday nights (2223-4000; doubles, $70-$113). Up in the mountains, 5,000 feet above the city, the breezy 40-room Ranch Le Montcel, in Belot-Kenscoff, is set on 16 lush acres. Mountain bike, horseback ride, or just hang out on the restaurant terrace. If you don't stay here, book a day-trip from the city—the staff will pick you up (3708-0330; doubles, $140). On the way out of Port-au-Prince, near the beaches of Les Arcadins, the impressive open-air Club Indigo, which used to be a Club Med, has a clean private beach, two pools, and outdoor dining, but rooms are merely adequate (3650-1000; doubles, $88-$165).
In Cap-Haïtien, try Cormier Plage, a reputable, charming place on a long beach (321-000; doubles, $80-$90); vine-laden Mont Joli (262-0300; doubles, $55-$80); or Roi Christophe (262-0414; doubles, $50-$60).
Just outside Jacmel, the Hôtel Cyvadier Plage has good food—especially seafood—perfectly adequate rooms, and a wonderful proprietor (288-3323; doubles, $45-$55). In town, the Hotel Florita is a beautifully renovated turn-of-the-century home with eight lovely guest rooms (288-2805; doubles, $65). The Hotel Kabic Beach Club has Scandinavian-style rooms that can be rented for a week or longer (3780-6850; doubles, $80-$90). The pink behemoth on the beach nearby is Cap Lamandou (720-1436; doubles, $93-$126).
Far south, on Île à Vache, Port Morgan is a well-equipped complex (921-0000; doubles, $110). Set right on a white sand beach, the Abaka Bay Resort is run by a personable couple and has airy rooms and a great restaurant (3721-3691; doubles, $85-$100; entrées, $14-$27). In Aquin, Aldy Hotel is clean and more than adequate, a nice anchor for a day-trip to Île à Vache if you want to stay on the mainland (3446-4046; doubles, $60).
Many of the best restaurants are in Pétionville. Here, order traditional Haitian dishes such as poisson gros sel (fish with onions), riz djon-djon (rice with wild mushrooms), griot (super-fried spicy pork bits), kabrit (goat), lambi (conch), and poulet créole. The spacious Brasserie Quartier Latin serves excellent salads and fish soup (10 rue Goulard; 3460-3326; entrées, $15-$25). La Coquille has a great buffet at lunch (10 rue Rebecca; 3614-9404; entrées, $12-$25).
Papaye serves nouvelle cuisine with Caribbean flair (48 rue Metellus; 2257-7717; entrées, $18-$28). Other favorites include Basilic (12 rue Borno, Bois Moquette; 3346-4748; entrées, $20-$40); La Plantation (corner of ave. Fouchard and rue Borno; 2257-0979; entrées, $13-$50); and La Souvenance (rue Geffrard; 2257-4813; entrées, $25-$100). In Cap-Haïtien, the popular Restaurant LaKay serves delicious seafood and traditional rice and beans (blvd. Carrainage; 2942-7225; entrées, $15-$30).
A great place to see master Haitian frescoes at the Episcopal Diocese of Haiti, in downtown Port-au-Prince. The paintings date to the mid-1950s and follow the passion of Christ, but in the local Haitian vernacular—an outstanding display, really a naive Sistine Chapel (2257-8116).
In Pétionville, Galerie Monnin has an amazing, soigné collection of the country's best, most progressive artists (19 rue Lamarre; 2257-4430). Galerie Nader is almost hallucinogenic in its kaleidoscope collection of the the oldest and the newest Haitian art (50 rue Gregoire; 257-0855). For affordable art and crafts and artisanat, Men Nou is best. Proprietor Ira Lowenthal is a Haitianist of great renown (30 rue Loulard; 2256-5144). Axelle Liautaud selects Haitian artwork and crafts for Gingerbread, her lovely boutique (81 rue Gregoire; no phone). Outside Port-au-Prince, the neighborhood of Croix-des-Bouquets has the most beautiful tap-taps and a vibrant artistic community, including the atelier of iron sculptors such as Serge Jolimeau and Brutal Michel Andre.
For beaches and old Caribbean flavor, go to Jacmel. The lively farmers' market is definitely worth visiting. Seafood shacks come and go along the beach at Ti Mouillage. Bassin-Bleu is a series of blue ponds, the final one ending in a waterfall. Getting to the basin is a trek over a riverbed, up a steep "road," and through a clumpy forest, plus (since last year's hurricanes) a final ascent with a rope—so bring your four-by-four and a guide. Jacmel's nonprofit Art Creation Foundation for Children has a small gallery of children's artwork (2 rue Dupré Turnier; 3874-7474). The Foundation Art Center of Jacmel is a waterfront warehouse with artists' studios, frequently changing exhibits, a small gift shop, and a café, plus weekly events (5-7 rue St- Anne; 3669-1911)
Saut d'Eau, north of Port-au-Prince, is the home of one of Haiti's most beloved patron saints, Our Lady of Mount Carmel, as well as a spectacular waterfall. Every June, a raucous voodoo festival takes over the small town.
Cap-Haïtien has two of the country's most stunning sights: Citadelle La Ferrière, the mountaintop fortress built after the Haitian Revolution by King Henri Christophe; and his palace at Milot, Sans Souci. Ask your guide about a place to stay overnight, since the roads are rough and traveling in the dark can be dangerous.
The Comedians, by Graham Greene, is the greatest novel ever written about Haiti (Penguin Group, $15). Madison Smartt Bell's All Souls' Rising is the first novel in his colorful trilogy that brings the Haitian revolution of 1791 to life (Vintage, $16). Brian Moore's No Other Life is a fictionalization of the rise of Aristide (Doubleday, $21).
Bernard Diederich's Papa Doc and the Tontons Macoutes is a detailed history of the abuses of the Duvalier dictatorship (Markus Wiener, $29). C.L.R. James's Black Jacobins: Toussaint l'Ouverture and the San Domingo Revolution is the famous history of the revolution, with mini-biographies of all the legendary figures (Vintage, $16). Laurent Dubois's Avengers of the New World is a newer, less politicized version of the history (Harvard University Press, $21).
In The Uses of Haiti, Dr. Paul Farmer offers an explanation of the country's political role in Third World underdevelopment (Common Courage Press, $25). Tracy Kidder's Mountains Beyond Mountains: The Quest of Dr. Paul Farmer, a Man Who Would Cure the World is the story of Farmer's engagement with poor Haitians (Random House, $18). I would be remiss if I did not recommend my own book The Rainy Season: Haiti Since Duvalier (Simon & Schuster, $28).