Wyclef and Bono to Receive RFK Center for Justice & Human Rights Award
Posted on:

7 November 2009

By:

Bryan Schaaf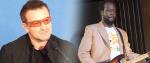 The Robert F. Kennedy Center for Justice and Human Rights has announced that Wyclef Jean and Bono will receive the organization's 2009 Ripple of Hope Award. The award, which will be presented at the Center's annual dinner on November 18th, recognizes bold leadership demonstrated by the two honorees on humanitarian issues.
"As champions of justice, Bono and Wyclef have brought the national spotlight to human rights violations, empowered local activists, and transformed the lives of millions of people living in poverty from Port-Au-Prince to Darfur," said Kerry Kennedy, founder of the RFK Center for Justice and Human Rights. "Their efforts evoke the spirit of my father and we are honored to recognize them."
The award will honor Bono, lead singer of U2 and co-founder of the advocacy organization ONE and (Product) RED, for his efforts in the fight against extreme poverty and preventable disease, particularly in Africa via the One and Red Campaigns. The organization will recognize Wyclef Jean for his work to strengthen and inspire change in his native country of Haiti through his Yele Haiti organization.  In addition to the award presentation, there will be special appearances and performances by Wyclef Jean, Governor David Paterson, Governor Jon Corzine, Peter Gallagher, Matthew Modine, Adam Arkin, Joey Pantoliano, and Gloria Reuben. There will also be a special tribute to Senator Edward Kennedy, who served as a member of the RFK Board of Directors from 1968 until his passing this year.
The RFK Center for Justice and Human Rights is a non-profit organization dedicated to advancing the human rights movement through innovative support to human rights defenders around the world. With an over forty-year track record of attaining concrete results on cutting-edge social justice issues, the RFK Center carries forward Robert F. Kennedy's vision of a more just and peaceful world. 
For more information on the Ripple of Hope Awards Dinner held at Chelsea Piers in New York City, please phone 212.249.6188 or e-mail Jennifer@emgbenefits.com.
Source: RFK Memorial Center for Human Rights