Widespread Flooding as Haiti Awaits Ike (9/6/2008)
Posted on:

6 September 2008

By:

Bryan Schaaf
The damage caused by Gustav and Hannah have set Haiti back years.  Many have lost their homes and livelihoods.  Food security, already precarious, is worse as crops have been destroyed, fruit trees knocked over, and livestock killed.  Gonaives, ever prone to flooding, bore the brunt but many other cities and towns were damaged and need assistance.  The implications are being felt nationwide.  Haiti needs its friends during the long recovery process.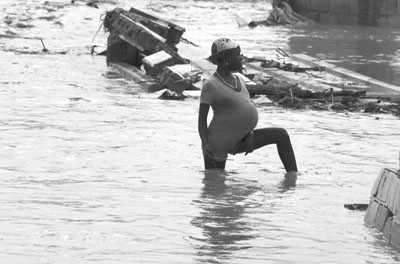 As of Friday, September 5th, the British Red Cross stated  250,000 people are stranded.  As of Saturday, September 6th 500 were reported dead. Haitians are doing what they can, taking in the displaced and assiting their communities.  The Diaspora is providing financial support and looking for other ways to get involved.  Non governmental organizations throughout Haiti are stepping up efforts to assist populations affected by flooding.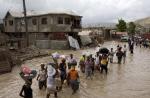 In 2004, Tropical Storm Jeanne flooded Gonaives, devastating the city which is situated in a deforested valley, making it very vulnerable.  Since that time, long term efforts to protect the city from the next storm were much discussed but never emerged.  Now Gonaives has once again flooded - perhaps worse than in 2004.  Click here to view BBC aeriel video clips of the damage and here for Reuters video clips on the ground.  Matt took a number of overhead photos which have since been widely circulated.  You can view several of them by clicking here.
According to the UN Coordinator, Joel Boutroue, "...In Gonaives alone we have some 70,000 people in shelters, and around 250,000 around Gonaives City need our assistance and that of the government, and throughout the country I would say around up to 600,000 people might require our assistance."  NGO mobilitiy is limited because of the high water level.  UN Troops have been working to collect people from rooftops and have brought in a ship carrying 33 tons of relief supplies.  It is now docked in Gonaives. You can view the offloading here.  As they did in 2004, Doctors Without Borders arrived to set up a clinic in the Raboteau slum neighborhood. Food for the Poor managed to get a shipment of food and water to Gonaives on Thursday.
CARE and other agencies hope to send larger convoys with water purification systems, food, and other supplies in the coming days if road conditions improve. Access is a problem - helicopters can reach Gonaives but rough seas make sailing difficult. Security is an ongoing concern.
In addition to Gonaives, many other parts of Haiti have been impacted.  For example, Hinche (which is located on a plateau!) has flooded as well.  The Central Hospital is now essentially a public shelter.  The facility has been turned into a shelter for the thousands of families that have been flooded out of their homes.  The Ministry of Health has requested funds to help purchase supplies for these people (sheets, blankets, food, medicine & supplies, and beds). There is a huge concern as well of the problem of contamination with thousands of latrines that have been destroyed and flooded.  Project Medishare will do what it can to support the Ministry of Health to care for the displaced.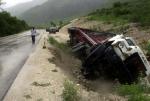 Infrastructure, including roads, has been impacted. Cross International passed on a report by the MINUSTAH Regional Security Office that the bridge from Ennery to Gonaives has collapsed and is now impassable.  Rivers on the road from Port de Paix to Gonaives have overflowed making the route treacherous.  Currently, its use is restricted to UN staff. The road from Gros Morne to Gonaives is very bad and is also restricted.  The road from Gonaives to Saint Marc is flooded in Savanne Desolee but otherwise usable.  On Route Nationale One from Saint Marc to Port au Prince, the bridge at Montrouis has collapsed and the road becomes impassable.  The road from Cap Haitian to Hinche, difficult in the best of times, is impassable at Saint Raphael.  The river south of Hinche has flooded, making travel to Mirebelais impossible. Roads from Mirebelais to Terre Rouge and from Terre Rouge to Port au Prince are still passable.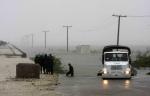 The bridge at Grand Goave is on the verge of collapsing, complicating travel from Port au Prince on Route National Two. Heavy duty vehicles (but not Land Rovers) can make the trip from Ti Goave to Miragoane.  Though the bridge at Duparc, between Miragoane and Les Cayes has collapsed, there is a workable detour.  Transportation from Port au Prince to Jacmel is still possible although landslides are a concern.  The route from Jacmel to Marigot is blocked due to the high water level.

According to Reuters, Ad Melkert the associate administrator of the U.N. Development Program admonished international donors to do more stating, "The poverty in the rain and mud of Haiti that I witnessed is nothing less than a disgrace...Many actors or potential actors try to play their part, ranging from the national government to multilateral and bilateral donors and NGOS. They all need to do more and better."
The United Nations and Haiti are also set to launch a joint international appeal. Preval intends to hold emergency talks with donor countries prior.  Switzerland will provide 1.15 million CHF, the bulk of which will go to the World Food Programme. The U.S. Embassy declared a disaster, freeing up $100,000 for hygiene kits, plastic sheeting and water jugs for up to 5,000 families were expected to arrive Thursday but that the biggest problem is reaching victims.

The USAID Office of US Foreign Disaster Assistance (OFDA) has sent five tons of aid, including emergency kits and tarpaulins. On August 28, the first member of a three-person USAID/OFDA team arrived in Haiti. The team is working closely with USAID/Haiti to coordinate the U.S. Government's humanitarian response with the the Haitian government, UN agencies, and other organizations. 

Jonathan Katz reported that the U.S. Southern Command (SOCOM) diverted the amphibious USS Kearsarge from Colombia to Haiti to assist in the relief effort. The ship will arrive Sunday and has a medical unit that includes four operating rooms and 53 beds.
France was sending a ship to Haiti with a helicopter aboard to help with search and rescue operations and channelling aid to the hardest hit areas. Spain also was sending four jetloads of humanitarian aid to Cuba, Haiti and Jamaica the European Commission has launched "fast-track" aid action for two million euros (2.9 million dollars) to provide relief for Haitians. Canada announced Saturday it would distribute 600,000 dollars.

The Red Cross launched an urgent appeal Friday for 2.3 million euros (3.4 million dollars) for Haiti.  Supporting this appeal would be an excellent way to help Haiti as would be supporting the NGOs that are stepping up their operations including Save the Children, Project Medishare, Episcopal Relief and Development, Catholic Relief Services, CARE, and others.

I went through other blogs to see what people are saying.  Elizabeth Roebling is following relief efforts closely and has posted some photos on her Changing Perspectives Blog.  Subalternate's blog carried Al Jazeera footage from Gonaives.  Veniatrenvm is carrying news pieces.  Graham Russell is calling for "digital advocacy" while Haiti Rescue Center is appealing for financial assistance.  Wadner Pierre, who blogs from Port au Prince but is originally from Gonaives, asks that readers support assistance efforts in his home city. Global Voices Online carried a blog by Jamie Mendes-Franco on the impact of the tropical storms on Haiti and other countries in the Caribbean.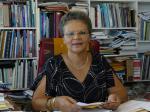 In the midst of all this, the political deadlock in Haiti officially ended.  Caribbean 360 carried an article noting that Prime Minister Michèle Pierre-Louis passed the final test that now allow her to govern the country.  She will also serve as Minister of Justice and Public Security and has chosen other Cabinet members.  The Cabinet includes seven ministers from the previous government.  She announced her top priorities as food security, employment, infrastructure upgrades, and advancing health care.  Better preparing for and responding to the inevitable tropical storms will help preserve gains in each of these areas.
Hurricane season is not over.  It is too early to say whether Ike will spare Haiti.  Any rain is too much at this point.  Please consider making a donation to an organization operating in Haiti right now.  Shiloh Waylen passed on a powerpoint on the current situation and I have attached it to this blog. You can use it to make a presentation at your church, Rotary Club, or other organizations you belong to.  Each of can and should play a role in the reconstruction process.  Haiti needs us all.
Bryan