Vaccination Campaign Targets One Million Children and Women
Posted on:

6 April 2009

By:

Bryan Schaaf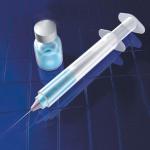 According to Jonathan Katz, public health workers plan to vaccinate some 1 million women and children this week around Haiti's capital after delays exacerbated by food riots and hurricanes.  The effort marks the second phase of an international goal to immunize 5.6 million Haitian children - more than half the country's population - against diseases like polio, measles and rubella.
World Health Day is on April 7th.  Immunization is essential to advancing global health.  The beautiful thing about immunization is knowing that a child will be safe if administered a vaccine properly.  This makes them an excellent public health and economic investment.
Katz observed that children in neatly pressed uniforms lined up at schools and marketplaces in the Cite Soleil slum to receive injections, drops and tablets. "This will help the children who can't afford medicine. When they grow up, they won't be frail," said Justin Jean-Erick, a health worker with Medecins du Monde.
When the program began in 2007, more than two-thirds of Haitian infants between 12 and 23 months had not been completely vaccinated, and 11 percent of children had received no immunizations, according to UNICEF.   The campaign was supposed to have ended more than a year ago. But the first round of vaccinations were completed in November because of delays exacerbated by riots over food prices and a string of tropical storm and hurricanes that devastated the island, UNICEF spokeswoman Elisabeth Augustin said.
Children under 5 years of age are being immunized against diphtheria, pertussis and polio. Kids between 1 and 19 years old receive rubella and measles vaccines. Workers also are distributing vitamin A tablets to fight malnutrition in children under 4.  Women between 15 and 49 years of age are being immunized against diphtheria and tetanus.
The distributions in Port-au-Prince and nearby Croix-des-Bouquets are expected to continue through Sunday. The joint effort by Haitian health authorities, the United Nations Children's Fund, the Pan-American Health Organization and others is aimed at eliminating deadly diseases.