USAID and Department of Education Announce Support for Education Initiative
Posted on:

6 November 2013

By:

Bryan Schaaf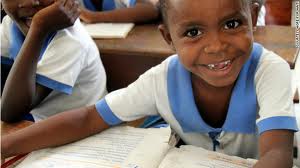 Below is a USAID/Department of Education announcement of new funding to support the Room to Learn program in Haiti.  Haiti is one of six Room to Learn focus countries, which focuses on improving access to primary education. An estimated 600,000 out of school Haitian children are functionally illiterate.  Education is critical for their growth as well for the growth of Haiti's economy, civil society, and institutions.
USAID Associate Administrator Mark Feierstein and Senior Advisor for International Education Christie Vilsack traveled to Haiti with U.S. Secretary of Education Arne Duncan, where he announced a multi-million dollar program in Haiti for USAID's Room to Learn. Secretary Duncan joined Haitian President Michel Martelly, Haitian Minister of National Education Vanneur Pierre and Associate Administrator of USAID Mark Feierstein to announce the new, multi-year Room to Learn program in Haiti that will focus on making education more accessible for all children. Worldwide, 57 million children are out of school, and hundreds of thousands of primary-school-age children in Haiti do not have access to education. Haiti is one of six focus countries for USAID's Room to Learn initiative, which is designed to increase equitable access to quality education. Through Room to Learn, USAID aims to accelerate progress towards Millennium Development Goal 2, universal access to primary education.
Christie Vilsack stated that "Room to Learn is about providing safe access to schools, rebuilding education systems, and preventing and mitigating the effects of conflict and crisis. USAID is working with ministries and our global partners to provide access to education for millions of out-of-school children so they have the opportunity to learn to read and build the foundations for their success in school and beyond."  Secretary Duncan met with Minister Vanneur Pierre and thanked him for his efforts to provide education for all children in Haiti. The group visited the Ecole St. Jean de Dieu, a school that provides education to vulnerable children, which is a part of Minister Pierre's initiative to promote equitable access for school-aged children who remain outside the system. Providing access to school and quality learning opportunities to vulnerable children are the type of efforts to be supported through USAID's Room to Learn program. "Haiti is at a critical juncture in rebuilding its economy and there is a significant governmental consensus and commitment to advancing education reform as part of the effort," said Arne Duncan, U.S. Secretary of Education. "Investments in education can grow a nation's economy and expand opportunities for its citizens. Leaders from both countries share a common desire to create high quality education systems for all that adequately prepare our children for success in their personal and professional lives.
Secretary Duncan, Mark Feierstein and Christie Vilsack met with President Martelly to discuss education in Haiti, partnership between the U.S. and Haitian governments, and President Martelly's goal to provide universal, compulsory access to education in Haiti. USAID works closely with the Government of Haiti to build the capacity of the education system and provide safe, equitable education to children. Secretary Duncan also visited a USAID-funded early grade reading program being implemented in 300 schools in Haiti.
Read more about the U.S. Government's education efforts in Haiti and about the Room To Learn Initiative.