Trafficking, Sexual Exploitation of Haitian Children in the DR on the Rise
Posted on:

24 October 2010

By:

Bryan Schaaf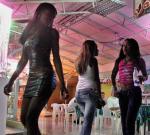 Below is an article by Gerardo Reyes and Jacqueline Charles of the Miami Herald concerning human trafficking and sexual exploitation of minors in the Dominican Republic, both of which have increased since the January earthquake.  Human trafficking occurs on both sides of the border.  It will take a sustained, joint effort to ensure that migration is humane, orderly, and that minors are not being exploited as they are now.  As the article makes clear, this will require tackling corruption within the border authorities.  For more information, take a look at the U.S. State Department's latest Trafficking in Persons (TIP) reports for the Dominican Republic and Haiti. 
BOCA CHICA, Dominican Republic -- After several days of going hungry, Marie said she surrendered to sexual propositions made by several men in the park where she begged in this resort town in the south of the Dominican Republic. Marie, 12, said she had sex with ``many'' of those men, sometimes for a dollar, while her cousins, 13 and 10, begged European and American tourists for coins. ``I was hungry, I lost everything; we didn't know what to do,'' said Marie, explaining her decision to sell her body on the streets of Boca Chica. The three children told reporters from El Nuevo Herald and The Miami Herald that they left Port-au-Prince with the help of a smuggler after the January earthquake devastated the city. Today, the children sell boiled eggs for 10 cents all day, walking in the sun along Duarte Avenue, a bustling runway for juvenile prostitution in the heart of Boca Chica, where newly arrived Haitian girls sashay, offering their bodies to gray-haired tourists. The story of Marie and her cousins has become commonplace: Since the earthquake more than 7,300 boys and girls have been smuggled out of their homeland to the Dominican Republic by traffickers profiting on the hunger and desperation of Haitian children, and their families. In 2009, the figure was 950, according to one human rights group that monitors child trafficking at 10 border points.
Several smugglers told the newspaper that they operate in cahoots with crooked officers in both countries -- their versions verified by a United Nations Children's Fund UNICEF report and child advocates on both sides of the border. `All the officials know who the traffickers are, but don't report them. It is a problem that is not going to end because the authorities' sources of income would dry up,'' said Regino Martínez, a Jesuit priest and director of the Border Solidarity Foundation in Dajabón, a Dominican border town. Martínez has denounced the problem from the pulpit, to community groups and to the heads of CESFRONT, the Dominican Republic's Specialized Corps for Borderland Security. Leaders in both nations, following the catastrophic earthquake that killed an estimated 300,000 people, pledged to protect children from predatory smuggling, a historic problem. And the problem became an international scandal after a church group from Idaho tried to bring 33 children from Haiti to an orphanage it was establishing in the Dominican Republic. Yet one month later, without headlines, smugglers moved 1,411 children out of the country, according to one child protection group in Haiti. The newspaper found that the trafficking of children remains, with reporters witnessing smugglers carrying children across a river, handing them to other adults, who put the kids on motorcycles and speed off to shanty towns. Border guards, charged with preventing this very operation, witnessed the incidents and never reacted, the reporters found. Haitian Prime Minister Jean-Max Bellerive acknowledged that there has been a lack of political will to tighten the porous 230-mile border between the nations, which he called a ``no man's land and an opening for bigger trafficking.'' `There is not one person who feels they have an interest in controlling the frontier,'' Bellerive told The Miami Herald. ``There are people on the Haitian side who are profiting because they are the ones who organize the trafficking. The same on the Dominican side.'  Dominican President Leonel Fernández did not respond to interview requests but his office sent an e-mail, saying that the government has intensified border security, prosecutions and sanctions against smugglers. ``The Dominican government deeply laments cases involving exploitation and trafficking of Haitian minors,'' the e-mail said but Dominican immigration records show only two convictions since 2006. And 800 children a month are brought into the Dominican Republic through different northern border crossings by a loose network of dealers, according to figures from Jano Sikse Border Network (RFJS), which monitors human rights abuses along the border. The traffickers charge an average of $80 per person. Vice Admiral Sigfrido Pared, the Dominican Republic's director of migration, called the figures plausible, even if his own agency does not track trafficking. `It might be, but whether they are five, 10 or 20 is worrisome because we know that most of the children are [brought here] to be exploited on the streets by Dominican and Haitian adults.''
The smugglers told the Herald they travel hundreds of miles unhindered through both countries, with caravans of children and with the protection of border patrols, soldiers and immigration officials. Since February, reporters for El Nuevo Herald and The Miami Herald visited every clandestine station in the scabrous route children are forced to take. On this journey, children and traffickers told the newspaper, kids go arm in arm through rivers and jungles; they are shoved onto motorcycles or into buses; some are forced to walk as long as three days without food. Other kids are kidnapped to pressure parents to pay the full price of the trip; some -- as young as 2 years old -- have been abandoned by the smugglers halfway through the journey. Nelta, a slender 13-year-old Haitian, told The Herald that she walked for three days with two other young girls to reach Santiago de los Caballeros in the Dominican Republic. She said a female trafficker left them at a hideout in that town, the country's second-largest town. `A man raped me in the shelter,'' said Nelta, who said she left Oanaminthe, a Haitian border town, without her mother's knowledge after the earthquake.  ``I can't go home empty-handed,'' she said softly, watching her words in front of the woman who took her to the Dominican Republic. She survived by begging on street corners under a red traffic light. In August she returned home. Her travel buddy, Weslin, 12, said the same man did not rape her ``because I was obedient.''The buscones [hustlers], as the smugglers are known, not only deliver children on request. They also deliver them a la carte to strangers. ``You choose the age, what sex, skills of the Haitian kid you want,'' one smuggler told an El Nuevo Herald reporter. Despite the horror stories, scores of Haitians of all ages -- 250,000 this year, according to Pared -- have long turned to the Dominican Republic because they believe there are more jobs in construction, tourism and service sectors. But the reality is that children end up begging at traffic lights, darting between cars at busy intersections, or roasting peanuts into the wee hours to sell on street corners, all under the watchful eye of adults who pocket the proceeds of the sale.
Police officers come and go while hundreds of kids shine shoes and wash car windshields. Other children scour through garbage in landfills for valuables or meals and many girls end up as prostitutes in resort towns like Boca Chica.  Tony, an 11-year-old Haitian boy, told The Herald that he and his friend hand over all of the money they make by washing the windshields of cars on busy Lincoln Avenue in Santo Domingo to a 17-year-old. `He protected us. He gives us some food and we live with him in a house,'' said Tony, who did not want to reveal his last name. His mother is in Haiti. All this occurs despite the governments of Haiti and the Dominican Republic signing treaties and laws to combat child trafficking. A U.S. State Department report this year concluded that the Dominican Republic ``does not fully comply with the minimum standards for the elimination of trafficking and is not making significant efforts to do so.'' According to the report, since 2007 the Dominican government has not convicted any traffickers or government officials involved in trafficking. ``Results in the areas of victim protection and trafficking prevention were also limited,'' the report adds. Pared, the Dominican migration director, called the State Department findings ``exaggerated.'' He said his country passed a law in 2003 that imposed stricter penalties on child trafficking. According to Pared, the two most recent convictions for trafficking in Dominican Republic are from 2008 and 2006. ``It's indisputable that we are much to blame, but specific efforts are being made to stop trafficking,'' Pared said.The Herald obtained a UNICEF report, which previously had not been made public in the Dominican Republic, stating that a border-crossing network has existed since at least 2002 involving ``Haitian traffickers, or `passeurs,' Dominican chauffeurs, and Dominican Army soldiers.'' And Herald reporters repeatedly watched smugglers this summer transport children across the borders unhindered. The bulk of the child smuggling is concentrated in the sweltering northern border of the island of Hispaniola, between the towns of Dajabón, 180 miles from Santo Domingo, and Oanaminthe in Haiti, separated by the Masacre River. A chaotic, bi-national wholesale market opens every Friday and Monday in Dajabón. Thousands of merchants and buyers show up, allowing smugglers to pass money -- usually $1 -- via Haitian bag men to Dominican officers, who look the other way as the human cargo moves amid the chaos. Herald reporters watched adults carrying children across the thigh-deep river or via a bridge without giving an explanation or showing immigration documents as required by law. The smugglers move freely through the streets of both border towns, where safehouses dedicated to hiding the children operate without hindrance. The regional child abuse prosecutor in Dajabón said her office has not tried a single trafficking case during the past year. ``The CESFRONT is not doing its job and I cannot go down to the river to arrest people,'' said Carmen Minaya, prosecutor for the Adolescent Children's Court.
Gen. Francisco Gil Ramirez, the then-director of CESFRONT, asked Herald reporters during an interview for proof that his guards had been bribed to let undocumented kids enter the country. But the general declined to watch videos shot by The Herald, where middle-men are seen taking cash from Haitians who cross the river and later hand it to CESFRONT guards. Gil called the claims isolated incidents: ``On all borders in the world people commit mischief and when a soldier commits mischief, we, with great responsibility, subject him to the internal institutional regulations.''  Gil left his office in September; Pared could not explain why. A hurdle facing investigators is that in some sectors the buscones -- or finders, as the traffickers are called -- are either feared or considered good: For better or worse they help the children avoid a grim future in Haiti, but sometimes at a cost. ``Thank God he [the buscón] did not beat the children on the road,'' said Josette Pierre a woman whose two sons, 5 and 7, were held hostage by a trafficker because she did not have the full amount for the trip. The earthquake also created a mass exodus, which makes it hard at times to differentiate between smugglers and parents or relatives crossing the border with kids. Exact figures are hard to come by. Alexis Alphonse, an RFJS coordinator, makes an almost daily census of the undocumented Haitians who cross the border at 10 key points. He does it by hand. At those points, Alphonse said, the smugglers bring the children, teenagers and adults to wait for drivers who will ferry them to the Dominican Republic. ``I can't tell if a child is going with her father or her mother, or with a stranger who wants to sell her or exploit her. It is impossible, it is a business out of control,'' Alphonse told The Herald. Still, prosecutors explained to the Herald, the checks and balances sit with the border guards who are required to check documents like passports and visas and identity cards. Alphonse said trafficking is such a normal business that the buscones don't mind when his agency comes to count kids and adults. Pared, the Dominican migration director, complained that NGOs surveyors never report trafficking to authorities, but instead run to the news media: ``I have spent a year and two months in this position and have not received a single complaint from them. The thing is, [the NGOs] would lose their reason to exist once the issue is corrected.''
Regardless, both sides agree that the traffickers operate with impunity. One buscón approached a Herald reporter and photographer offering children. The customer, he said, chooses the age, sex or skills of the Haitian child he wants. ``Do you want them to speak Spanish?'' asked an intermediary who offered to locate at least two children. Back in Boca Chica, on a cloudless and sunny Saturday, girls in bikinis played like children in the water or sand as adult men came over and propositioned them. One man, about 70 years old, clad in a yellow Speedo as he walked through thigh-deep water, asked two girls for sex. That same night along Duarte Avenue, girls in tight dresses and pumps danced in groups waiting to corner the tourists with all kinds of sexual propositions.  Nataly, who said she is 19 years old, but looks younger, said she left Port-au-Prince in August with her two children, ages 5 and 3. The house where she lived with her husband -- a merchant -- was destroyed by the earthquake and he lost his business, she said. Having no money to pay the buscón, Nataly said she had to sleep with him twice during the voyage. Never before, she said, had she offered her body in exchange for favors or money. Nataly said she charges tourists $40 to $50 for sex. Of that amount, she must pay a fee to young hustlers in their 20s who get her customers.  Nataly lives with her two sons in a dirty, bug-infested house without doors or windows, in the midst of a large and expensive residential neighborhood for foreigners, Jardines de Bochachica, north of town.``I will not return to Haiti,'' she said. ``There is no life there.'' (Note:  Click here for accompanying video footage)