Tracking Microfinance in Haiti and Elsewhere
Posted on:

24 September 2009

By:

Bryan Schaaf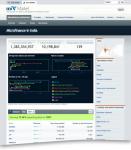 Microfinance has been successful throughout the world, including in Haiti. Thanks to Mix Market, there is now an application that allows users to track microfinance.  Mix Market has published data on more than 1,500 microfinance institutions (MFIs) in 190 countries.  As Development Seed puts it,"The Mix Market is a Bloomberg for microfinance...it opens this information up to help MFIs, researchers, raters, evaluators, and governmental and regulatory agencies better see the marketplace, and that makes for better international development."
Click here to see Haiti's microfinance profile.  In 2008, there were 116,835 borrowers and 49,021,554 in micro-loans.   The average loan was 298 dollars.  Lenders include ACME with 24,038 borrowers, FINCA with 18,397 borrowers, Fonkoze with 21,225 borrowers, MCN with 9,039 borrowers, SFF with 32,979 and SOGESOL with 12,588 borrowers. The website contains contact information for each organization, partnerships, and other pieces of relevant information.  Using the indicators tab, a user can learn more about these organizations including: 
-Average deposit balance per depositor
-Average loan balance per borrower
-Borrowers per staff member
-Capital/Asset ratio
-Cost per borrower
-Debt to equity ratio
-Financial expense/assets
-Gross loan portfolio
-Number of depositors
-Operating expenses/assets
-Personnel
-Return on assets
-Total assets
-Total borrowers
-Total equity
-Total women borrowers
-Write off ratio
-Yield on gross portfolio
If you are new to microfinance, take a look at the frequently asked questions and glossary of terms. Note: MIX is a non profit organization incorporated in June 2002, with headquarters in Washington, DC, and regional offices in Peru, Senegal, India and Indonesia. MIX was founded by CGAP (Consultative Group to Assist the Poor), and is sponsored by Citi Foundation, Deutsche Bank Americas Foundation, IFAD, and Bill & Melinda Gates Foundation. Their FY 2008 Annual Report is attached. 
Bryan