Strange Things Documentary: Street Kids of Haiti
Posted on:

12 May 2008

By:

Bryan Schaaf
The publicity surrounding Haiti's political instabilities and poverty are known to the media, yet the country's children are often missing from the images and minds of the world. Strange Things, a Hamm Production documentary, follows the lives of several orphaned, homeless and impoverished children in the streets of Cap-Haïtien. The documentary is an honest portrait, through the street kids' eyes, while describing their stories of survival. Interviews with local residents recount why and how over 300,000 of Haiti's children are left to survive poverty on their own. When you ask a child on the streets of Haiti "What's up?" they say "Bagay Dwol" - strange things.
Alexandria (Alex) Hammond, producer and director, of Strange Things first traveled to Haiti in 2002 to shoot a short documentary in the northern village of Milot. It was during this time that Alex traveled to Cap-Haïtien and met a young American who started a school for street kids. This school provided a refuge for many kids to escape the aggressive street life, learn basic skills, and enjoy a game of soccer. Alex became intrigued with how the devastating poverty robbed these children from their childhood. She returned in 2006, with co-producer Eric Lahey, determined to reconnect Haitian children to the world via their stories.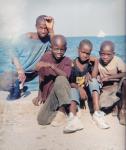 With an estimated 300,000 children living in Haiti's streets, either an outcome of losing both parents or working for their own survival, they are deprived of affection and protection. They don't have access to food or education and are constantly under the threat of all kinds of violence. One can only imagine the stories of survival. In the documentary, the three main characters (Luckenson, Denique, and Ramone) reveal how poverty pushes them out to work to wash cars or whatever else they need to do. Some were undoubtedly lured with food and shelter to become child soldiers in gangs- surrendering them to violence of which they are a victim and practice.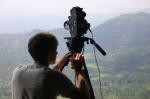 After the production crew's visit to Cap-Haïtien in 2006 & 2007, they shot over 130 hours on digital video, Super-16mm and Super 8 film alongside some underwater photography. The visuals in the film are a key element as it documents a Haiti that is virtually unknown. The producers were adamant about getting the right shots of Haiti's breathtaking landscape- the sunrise from the Citadel, time-lapse of an eclipse, the turquoise water. Alex calls them moving paintings that give the audience a moment to think about what they're watching. You can view the movie trailer by clicking here.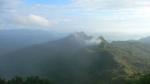 In a personal interview with Alex, she states, "my desire for making this film was something that completely took over me. With a landscape full of contrasts, a history so remarkable, and a culture so resilient to political instabilities - my mind couldn't help but drift to Haiti and its kids. One can only admire these children and how they've been able to stay hopeful despite a nearly impossible life". Cap-Haïtien is in itself a land full of contrasts where the powerful Citadel sits besides the expanding slums and stunning beaches.
Denique, 14-years-old, expresses his dreams for a better future and education, "Just want to have a good mind, go to school, be someone... but it's impossible here". Ramone, who lost his entire family and dreams of a better future for Haiti, wants a safe place to sleep at night where he doesn't have to constantly fear for his life. The production crew was extremely sensitive to the fact that each time they film these kids they change things. Their sleeping locations are their sanctuaries and their image is their only protection.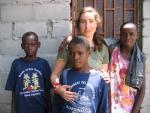 Hopefully once this documentary is finished it will raise awareness about Haiti's children and provide a message to policy makers and international donors to further support programs that specifically address these children's needs. Alex acknowledges that this film can only chip away at this problem, but these kids are considered soulless and need to be recognized as humans-the ones who are going to truly change Haiti. For now, their main means of escape is paint thinner - a method of forgetting their misery.
Today, Strange Things has a compilation of over 130 hours of footage with the edit currently underway. Producer Alex Hammond and Associate Producer/Post-Production Translator Regine Zamor have completed an astonishing amount of work, however finishing funds are detrimental to achieving a rough-cut product.
Please contact Alex Hammond for more information at alex@hammproductions.com.
We look forward to seeing the final product of their hard work!
* All photos are courtesy of Hamm Productions.
~ Samira