PAZAPA Update (12/14/2008)
Posted on:

13 December 2008

By:

Bryan Schaaf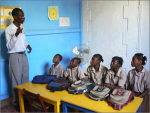 While being a child in Haiti is hard enough, being a disabled child is much more so. There are few organizations providing the health, education, and vocational support that disabled children and their families need. PAZAPA, based in Jacmel, has been supporting programming for deaf, blind, and developmentally disabled Haitian children since 1982.  We first wrote about PAZAPA on October 13th.  Below is an update. 
Several weeks ago, the PAZAPA Board of Directors held a fundraiser in Washington DC.  The event included an impressive selection of Haitian art-work for purchase.  The founder of PAZAPA, Jane MacRae, passed away and is very much missed.  Marika MacRae, her daughter, has taken on her mother's responsibilities and is working with the board to develop a strategic plan for maintaining and expanding PAZAPA programs. 
PAZAPA is doing excellent work but faces a number of challenges.  The PAZAPA building, and the homes of families receiving assistance, were not spared damage from the latest series of tropical storms. A powerpoint presentation of the damage to the area is attached.  Repairs have begun but are costly.   PAZAPA seeks to broaden its donor base, which is complicated by the economic downturn.  
In terms of health care, PAZAPA continues to provide clinical evaluation and orthopedic, neurologic, and plastic surgery; and occupational and physical therapy and rehabilitation for physically disabled children. Local medical professionals and international volunteers provide all treatment for children with foot, knee, and hip deformities. Fifteen patients are scheduled for surgery in December 2008.
As of January 2008, CURE International has partnered with PAZAPA and is currently covering all serial casting, orthopaedic treatment, and surgery for those with clubfeet under the age of two. Approximately 16 patients per month are covered by this program. Cleft palate and hydrocephaly patients are few and are sent to Healing Hands Haiti upon diagnosis for immediate treatment.
The staff nurse and physiotherapy technician provide pre- and post-operative care to ensure best results during and after treatment.  PAZAPA provides, free of charge, medication to control epilepsy as prescribed by local and international volunteer physicians. A total of 23 children are on seizure medication. Dr. Chris Miller held a neurology clinic in September 2008 for 10 patients.
Concerning special education, the PAZAPA School at the Jacmel Center provides education and therapy to approximately 82 children from infancy to late teens with developmental/mental challenges. The school provides four levels of education. Currently seven children regularly attend the early intervention class (0-3 years), which focuses on working with mothers and other caregivers to ensure that stimulation therapy and socialization techniques are learned and carried out in the home.
The early school level (4-10 years) emphasizes motor, language and social skills while helping children develop confidence in their abilities. A kindergarten-level sign language class is offered to four clients with severe language and developmental problems. The senior class continues the academic program, assisting those students who can manage a regular school curriculum to be "mainstreamed" in an afternoon public school program. 
Twelve children with multiple, severe handicaps who are unable to attend the school are enrolled in the home visit program and seen in their own homes and community by PAZAPA teachers and visiting volunteers. PAZAPA subsidizes boarding school for one visually impaired child at Port au Prince's Ecole St. Vincent. The Center also pays the school fees for one physically disabled girl who attends high school in Jacmel.
Support for the deaf is a major focus for PAZAPA. Due to the abrupt closing of the Bon Repos School in Port au Prince, the only boarding school for the deaf in Haiti, PAZAPA was obliged to undertake the continuing education for local deaf students from kindergarten to national certificate level (Grade 6). They opened the center in the afternoons, hired four of the special education teachers from the Bon Repos School and enrolled those students who were abandoned by the original school closure in addition to local and outreach deaf students. Currently 33 children attend the PAZAPA School for the Deaf.
While based in Jacmel, PAZAPA reaches more children in need than just those in the immediate area. Although the outreach Program has brought help to more 300 children in the rural areas, PAZAPA recognizes that this is only the tip of the iceberg. Approximately 70 percent of the nearly one million people in the South East Department live in isolated rural areas.
Disabled children who are educable are not accepted in local schools; children with operable or treatable orthopedic problems, such as clubfeet, are obliged to live with a disability that often limits their potential to earn a living; those with cleft lip/palate must suffer a grievous disfigurement; deaf and blind are treated as burdens to their families.  In 2008, PAZAPA recruited and trained two additional volunteers from "untouched regions."  The Center now has a total of six outreach locations with monitors who are willing to work with parents groups, to oversee training sessions locally, or to assist families to bring children to the Jacmel Center for treatment.
Other noteworthy events took place in 2008. A very big and successful Carnival celebration in January included two big floats, one for the king and queen and one for the music. PLAN Haiti and the Tourism Association of Jacmel contributed funds, and a local store called EDL contributed a free truck to use. Roughly 100 kids from the Center danced behind the float as it drove through town. This is a way to educate the population on the needs of the handicapped; and it is also a way to integrate disabled kids into society. 
PAZAPA began a one-year partnership with PLAN Haiti (formerly known as Foster Parents Plan) to help hearing impaired and mentally challenged children express their rights through different art forms. A total of 38 children are part of the program, working with painting, photography, videography, and acting. Jill Lang, a physical therapist from South Carolina, spent three days working with PAZAPA's early intervention babies and home visit kids, and left a set of exercises for staff to use with the kids. Healing Hands Haiti, a missionary rehabilitation group started in the States, will operate on one child with cleft palate and one burn victim in December.
There are many ways to help PAZAPA help disabled Haitain children.  Consider making a donation or holding a fundraiser.  Haiti Innovation would be happy to discuss your fundraising ideas with you.  They also need volunteers to assist with medical treatment, physical therapy, and special education.  Assistance with building repair is welcome.  One of the best things you can to do to help out is to raise awareness of PAZAPA's work and why it is important.  Tell your friends, give a presentation, or send a link to the PAZAPA website or this blog to others who would be interested. 
We will keep you posted about PAZAPA's activities.  If you would like further information, please take a look at their website or contact Haiti Innovation. 
Thanks!
Bryan