The Let Agogo Example: More Jobs and Better Nutrition Through Dairies
Posted on:

18 May 2008

By:

Bryan Schaaf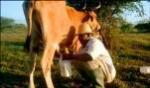 Below is a Miami Herald article on Haitian dairies that I read with great interest. With the exception of Laughing Cow cheese, it is hard to find and even harder to afford dairy in Haiti.  Powdered milk is expensive and when mixed with unclean water can be dangerous for children.  Countries such as India have a wide network of dairy cooperatives which provide jobs for women and better nutrition for kids.  One glass of milk would make a real difference in boosting their immune systems. According to Dr. Michel Chancy, approximately 100 dairies would meet Haiti's domestic demand.  After reading the article watch videos concerning the successful Let Agogo program to learn more.
Haiti's dairies strive to produce
BY JACQUELINE CHARLES
BON REPOS, Haiti -- Some arrive on foot, walking for miles in the scorching Haitian heat. Others come by way of bicycles and even donkeys. Every morning, farmers and the children of farmers make their way to this sleepy rural town on the outskirts of Port-au-Prince carrying gallons of fresh cow milk.
Walking through rustic iron blue doors, they sit and wait while workers insurgical masks test the milk for acidity and balance before sending the farmers on their way with a payment voucher in-hand -- $2.20 for every gallon delivered.
Long before rising fuel and food prices sent hungry Haitians rioting into the streets last month, this quiet country dairy was already waging its own battle against one of the most expensive foreign imports: milk.
''Haiti is a country where we consume a lot of milk,'' said Dr. Michel Chancy,  a veterinarian and one of the visionaries behind Lèt Agogo (Unlimited Milk), a program that supports the production, marketing and sale of homespun Haitian milk products. ``After rice, milk is the second-largest import. We spend more than $40 million a year on imported milk.''
An important staple of the Haitian diet, imported milk is everywhere in this  impoverished Caribbean nation. Tiny cans of evaporated milk line the teeming ailes of streets markets, while powder and shelf-stable sterilized carton brands stack the shelves of high-priced Petionville supermarkets.
Recognizing the popularity and the skyrocketing costs, Haitian President Préval  has designated imported milk, which sells for as much as $9 a gallon for long-shelf life cartons, as one of the products he would like the international community to help subsidize as part of a $60 million aid package he's seeking. But for the long-term, his agricultural ministry is also examining how to capture all of the milk from the more than half-million Creole cows estimated to be roaming around the Haitian countryside as part of its new emphasis on domestic production.
Enter Lèt Agogo and its small but growing franchise of localized dairies in a country where transforming and commercializing a fragile product like milk hasn't always been successful. Though only six years young, the promised success of Lèt Agogo has been noted by both Préval and others. In 2005, the project was awarded a $10,000, first place prize in W.K. Kellogg Foundation and Economic Commission for Latin America and the Caribbean's Experiences in Social Innovation Award. And last month, Préval cited it as an example of domestic production at work as he pleaded for peace in a national televised address to rioting Haitians angry over rising food prices.
''The program adds value to the production of milk, which used to waste away.  And equally important, it is creating an environment to allow others to enter the production,'' Joanas Gué, Haiti's Secretary of State for Agriculture, and the man charged by Préval to launch Haiti's return to growing and consuming local.
Almost all of the 13 Lèt Agogo laiteries or dairies are independently-owned and operated. Through his 17-year-old nongovernnmental organization Veterimed, Chancy and his team of worker bees provide the dairies technical know-how, marketing advice and loan of the Lèt Agogo branding.
''Haitian peasants have always taken care of their cattle; tying them, feeding  them and giving them water to drink,'' said Philippe Mathieu, Chancy's co-collaborator who through his current employer Oxfam International in Quebec is working on helping the brand now produce cheese. ''The cow has always been their bank book, something they could sell for money during hard times,'' he adds. ``Now it has become a revenue for them.''
Peasants cash in on their vouchers every 15 days, and the money in turn is used  to buy food, pay school fees. ''Every dairy has a story behind it,'' said Mathieu, pointing out that some are operated as co-ops among peasant groups, while others are partly financed by Haitians living abroad or by NGOs. All are encouraged to allow the people in the community to have a financial stake in them.
The second dairy to open, and the first in the Port-au-Prince area, the Bon  Repos dairy is almost hidden off a busy road headed out of the capital. In the backdrop are barren mountains, and fields of agriculture land with grazing cattle. Daily life ranges from hectic during the rainy season when grass is plentiful and milk production is high, to tranquil like these days. All week, the dairy has been averaging only about 20 gallons a day -- up 10 gallons daily from the previous week.
''In about a month, when the rainy season begins, we'll get between 120 and 140  gallons per day,'' said Chancy, who in the late 1980s was only one of five veterinarians in Haiti and in 1991 served as head of the Ministry of Agriculture's Animal Health Service. ``But in the season we have too much mango... the people drink less milk. It's why we use the bottles to store the milk  and now we are working on making cheese.''
Over the next hour, Chancy walks through the process, quickly pointing out there is no electric service in the bare-knuckle dairy, which operates strictly on solar energy. There are several work stations. In the back where the liquid yogurts with the bright yellow tops and colorful labeling are kept in a freezer, there is the temperature-controlled bath. In another room there is the autoclave, next to the boilers, where the milk is either pasteurized or sterilized after boiling.
All of the products are much more affordable than imported milk, he points out. Like the yogurt, the 9.5 oz bottles of sterilized milk are flavored to the Haitian taste buds and sold for .65 cents in stores throughout the country. The bottles are also distributed in government schools and have a shelf life of up to nine months. ''The milk is here,'' Chancy says, speaking of the abundance of natural milk in Haiti where the lack of roads and electricity in the country pose huge  challenges. ``The problem is transforming it.''
Chancy and Mathieu say it will take 100 dairies like this one dotted throughout Haiti's rugged terrain to truly take over the import market. The price tag: $10 million. ''Normally in five to 10 years, a dairy would pay for itself. But you need the investments,'' Chancy said.
So far, the product's single biggest client is the Haitian government. It buys  bottles of sterilized milk below cost and distribute them to 13,000 students in 44 government-funded schools. The government, Chancy said, would like to expand the distribution to 800 schools. Gué, the agriculture official, said his ministry recognizes there are some challenges with expanding the program and is currently examining ways to help Lèt Agogo maximize its potential and collection.
''We are working on reinforcing the capacity of Lèt Agogo to surpass a certain  quantity. We want to help improve the chain of distribution,'' he said, adding that the program's leading benefit is it puts money in the pockets of Haitian peasants. ``Lèt Agogo's approach is a good example of what we are trying to accomplish with this new national production initiative.''
But not everyone agrees that the right way to maximize the impact is to flood  Haiti with a bunch of little country dairies. Recalling Haiti's past lack of success with dairies, Carl Déjoie, a well-known farm management specialist in Haiti, supports a more intensive, regionalized approach. ''I'm not saying it's not a good program but you have to modernize the sector;  put another technique,'' said Déjoie, involved in a domestic production effort with chicken and eggs.
Déjoie says his position is based on the fact that currently the program is  heavily dependent on Haiti's rainfall. The less rain, the less milk. Mathieu, who doesn't favor Déjoie's intense approach, says there are ways to address the dry season problem to ensure cows are properly nourished. Among them, stockpiling grass and using other types of foilage, about which Veterimed currently conducts seminars with peasant groups. ''The Haitian cow is something extraordinary,'' said Mathieu, a former minister
of agriculture. He notes, the Creole cow hasn't changed much genetically since the Spaniards set its ancestors out in the wilds of Haiti centuries ago.
''It may not produce a lot of milk but it doesn't get sick easily, and it has  the ability to adapt, eats any little thing,'' he said.
Noting that Haiti is at a difficult crossroads with today's global price hikes,  Mathieu said: ``It's not the production of milk that is important here... It's accomplishing it together. The goal is to show as Haitians, there is a way to do things -- a way to construct something collectively.''