Kenscoff Environmental Summer Camp (7/12/09 - 7/19/09)
Posted on:

17 June 2009

By:

Bryan Schaaf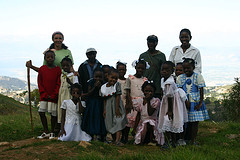 We first blogged about the Wynne Farm way back in December 2005.  In that blog, Matt noted how important it is for children, in a country that depends on agriculture for survival, to understand the environment.  Each Summer, COHEF (Children of Haitian Enhancement Foundation), the Unity Church of Miami, and the Wynne Farm Ecological Preserve hold a two week, nature intensive summer camp. If you would like to lend a hand, volunteers are needed as well as in kind and cash contributions. More information is below.     
ANNUAL SUMMER CAMP 2009 KENSCOFF, HAITI COHEF, WYNNE FARM ECOLOGICAL RESERVE, OPERATION GREEN LEAVES AND UNITY CENTER OF MIAMI  JULY 12 TO JULY 19, 2009  
Welcome to our Fourth Free Summer Camp in Kenscoff, Haiti.  All we ask you is a positive attitude, plenty of patience and a willingness to help those in need.  The desire to accept friendship and an untiring sense of humor will assure you a trip of a lifetime. You will never see the world the same way after this trip.  It is up to you to make the most of this experience.  Our children are waiting for you.
FOR VOLUNTEERS:
You will need to bring with you:
-Jeans
-Sweaters (it gets cool at night)
-T-shirts (we will provide you with 2 COHEF t-shirts for the camp and a hat)
-Sneakers and sandals
-Bathing suits
-Toiletries
-Mosquito repellent
-Flashlight and extra batteries
-Snacks
-Sunscreen
-One or 2 outfits in case we go out at night 
For more Information: Janie Wynne's telephone # is (011509) 3-462-0766.  As soon as Elsie arrives in Haiti, she will have a phone and she will provide you with the number.   
July 12: We expect to have 1200 students and volunteers and guests – Opening Day
July 13, 14, 15, 16, 17, 18: We will have 400 students and volunteers – Camp Activities
July 19:  We will have 1,200 students, volunteers and guests - Closing day.
For Sponsors:
On above dates, we would like to offer everyone snacks, lunch and beverages, including water.  Following are the items that are needed:
___ Bread
___ Cheese
___ Ham
___ Butter
___ Mayonnaise
___ Mustard
___ Ketchup
___ Crackers
___ Drinks (powder, if necessary)
___ Sugar
___ Cookies
___ Water
___ Ice
___ Paper Cups
___ Napkins
___ Toilet Papers
___ Toothbrushes (1200)
___ Toothpastes   (1200)
___ Notebooks
___ Pencils/Pens
___ Arts & Crafts Supplies
___ $$$$
___ Other ________________________
We would appreciate it very much if you could notify us at once so we include you as our sponsor.  Feel free to send us a banner for display during camp activities. Alsom please feel free to come and volunteer or visit us during these 2 weeks.