Jubilee USA: Members of Congress and Other Leaders Urge Immediate Debt Cancellation
Posted on:

31 May 2008

By:

Bryan Schaaf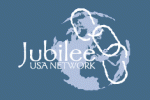 Despite a letter signed by 54 members of Congress, the Treasury Department refused to support a Congressional request urging for immediate cancellation of Haiti's debt or a freeze on Haiti's current payments to the World Bank and others. Members of Congress recognize that in a time when Haitians continue to starve it is unethical to receive payments the country could use to feed its own people. A letter released last week from Assistant Secretary of Treasury for Legislative Affairs, Kevin Fromer, stated "there is no provision in HIPC [Heavily Indebted Poor Countries] that would allow Haiti to come to Completion Point now." The press release below includes the reactions of Congressional and human rights leaders as well as links to the letters.
Leading Congressional Haiti Advocates Disappointed by Treasury Department's Refusal to Support Accelerated Cancellation or Moratorium on Payments for Haiti
FOR IMMEDIATE RELEASE
Tuesday, May 20, 2008
Contact: Neil Watkins, Jubilee USA, 202-421-1023
WASHINGTON – With food prices on the rise in Haiti and social unrest in the impoverished nation growing, today Members of Congress, religious and civil rights leaders, and prominent development advocates issued an urgent call to the U.S. Administration to support immediate debt cancellation for the struggling nation.
In February 2008, 54 Members of Congress signed a letter to Treasury Secretary Henry Paulson, urging him to expedite debt cancellation for Haiti, or stop payments until such a time as the debt is written off.
The letter was circulated by Rep. Maxine Waters (D-CA), a senior Member of the Financial Services Committee and Rep. Spencer Bachus (R-AL), the Republican Ranking Member. In a letter released today by Haiti advocacy groups, Kevin Fromer, the Assistant Secretary of Treasury for Legislative Affairs, rejected the Congressional request for expedited support or a moratorium, stating: "there is no provision in HIPC that would allow Haiti to come to Completion Point now."
Members of Congress Respond to Treasury's Letter:
"The people of Haiti are literally starving today. Meanwhile, Haiti is sending approximately $1 million each week in debt service payments to the World Bank and other creditors, money which would be better spent to fight hunger and poverty.
"Together with 53 concerned House colleagues, I wrote to Treasury Secretary Paulson in February, urging him to provide expedited debt cancellation for Haiti, and in the interim, to stop debt payments until such a time as the debts can be cancelled.
"Treasury's response was entirely inadequate. While I appreciate that the international financial institutions and the United States are providing loans and grants, this is simply not enough so long as Haitians continue to starve. I call on Treasury Secretary Paulson to do everything in his power to provide immediate debt cancellation for Haiti. We cannot in good conscience accept payments from Haiti at this time of desperate need."
Rep. Maxine Waters (D-CA)

"Releasing Haiti from its onerous debt will allow the country to feed its own people and rebuild its struggling economy without the burden of diverting its scarce resources. Haiti is scheduled to pay approximately $50 million dollars in 2008 – funds that could be better spent addressing the current food crisis and helping Haiti recover from years of economic, environmental, and political turmoil.
"I recently authored an amendment to the Jubilee Act for Responsible Lending and Expanded Debt Cancellation, which unanimously passed the U.S. House of Representatives supporting the immediate cancellation of Haiti's international debt. The House has spoken; it is now time for the Administration to make sure that this struggling nation receives the assistance it needs to put itself on a sustained path towards development."
Rep. Alcee Hastings (D-FL)

Statements from Development and Human Rights Leaders:
Rev. Jesse Jackson, who led a delegation of 24 religious and civil rights leaders in early May stated, "We want this debt canceled and the people relieved of its burden. That money can be used and invested in roads, schools, bridges, health, houses and education."
"Every day in Haiti we see the distal effects of the government's crippling debt to international financial institutions in a lack of clean water, good roads, schools with no hidden fees, access to adequate nutrition, and scarce medical resources. The burden of hunger and disease continues to grow, advancing unnecessary suffering and increased mortality; the recent food riots are only one symptom of the chronic and inevitable underfunding of public sector social support in a country so constrained by its obligation to foreign banks. We urge Treasury to immediately engage in canceling Haiti's debt and debt repayments, so that the Haitian government can use its income to support those who need it most: the Haitian people."
Paul E. Farmer, Partners In Health
"While the global food crisis is devastating the well-being of Haitians, causing riots and acute hunger, the Haitian government must continue to pay more than $1 million a week in debt service when it could be financing a return to local food production, subsidizing basic foodstuffs and investing in health care. I urge the U.S. Treasury to place an immediate moratorium on Haiti's debt service during this crisis so the government can guarantee the right to food for all Haitians."
Mary Ellen McNish, General Secretary, American Friends Service Committee
"Much of the $1 million a week that Haiti sends to the IDB and World Bank is for loans made to the Duvaliers and other corrupt and brutal Haitian dictators. The Haitian people received little benefit from these loans, but Haiti's poor are now forced to repay them by eating mud pies, dying of easily treatable diseases and not learning to read."
Brian Concannon Jr., Director, Institute for Justice & Democracy in Haiti.
"In the past, the Treasury Department has abused its power within the IDB by blocking greatly needed loans for water, health, education and road projects in Haiti, which has had devastating consequences for Haitians' health and well-being. Today, Treasury has an opportunity to use its influence appropriately to improve the human rights situation in Haiti, but is unwilling to do so."
Monika Kalra Varma, Director, The Robert F. Kennedy Memorial Center for Human Rights
"Within the context of long-term development, Haiti's debt must be addressed. The public sector spends only $10 per person on health services per year while servicing millions in debt to international financial institutions. The passing of the Jubilee Act (HR 2634) in the U.S. House of Representatives--which CARE USA supported--sent the right signal to the Haitian Government and the Haitian people in terms of the United States' support to this nation. CARE is urging all members of Congress to support the passing of this bill in the U.S. Senate, with a Haiti amendment similar to the one offered by Congressman Alcee L. Hastings (D-FL). Moreover, CARE is asking Congress to provide support to the Haitian Government in the establishment of a transparent, accountable, and effective mechanism to channel the proceeds from debt cancellation toward poverty reduction initiatives that are prioritized by local communities."
Marlye Gélin-Adams, Regional Advocacy Advisor for Latin America and the Caribbean, CARE USA
"Thirty years ago, Haiti produced rice, enough to feed its citizens and even export to regional markets. Haiti also was a leader in livestock production. Rice production and much of the agricultural sector was decimated in the 1980s by the structural adjustment programs of the World Bank and the International Monetary Fund. Today, Haiti is gripped with a crippling food crisis. Haiti is also forced to service debt to the very institutions that precipitated the problem. These funds siphoned off to international bankers could instead be going to feed the people and rebuild the agricultural sector. Haiti's has repaid its debt many times over. There couldn't be a better case for complete and total debt cancellation."
Emira Woods, Co-Director, Foreign Policy In Focus, Institute for Policy Studies
Haiti is facing a crisis: The price of staples like rice, beans, flour, and corn have almost doubled in the past six months, and Haiti has seen riots and even killings over food. The price of fuel has also skyrocketed, leaving small businesses unable to cope, and emergency boats without gas enough to address crises at sea. During the second week of April, as many as five people were killed during the food riots. On May 12, eleven people (including five children) were found dead after an overcrowded ferry capsized off the Haitian coast. The closest rescue boat lacked the gas to respond.
While grant assistance from USAID and international financial institutions are important, debt relief is a critical additional component to help provide additional resources to the Haitian government to respond to the crisis. Haiti is currently in the final stages of the World Bank/IMF Heavily Indebted Poor Countries Initiative (HIPC) but is not expected to reach completion point until late 2008 at the earliest. Haiti is scheduled to pay over $50 million this year, more than a quarter of its spending on public health. Advocates argue these funds would be better spent on food, health, and other social services. Moreover, much of Haiti's debt is odious or illegitimate: nearly 40% of Haiti's public debt stems from loans made to the Duvalier regime, which abused and controlled Haiti from 1957 to 1986.
Haiti was excluded from the HIPC program at the start because it did not meet the initial debt burden indicators, which the IMF later recognized were too high and revised in 1999- a technicality that cost the country years more of debt service.
The press release can be accessed by clicking here.