Interaction Launches Haiti Aid Map
Posted on:

7 June 2010

By:

Bryan Schaaf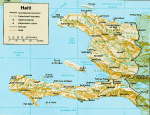 Interaction, the largest coalition of U.S. based international nongovernmental organizations, recently launched the Haiti Aid Map, an online application that graphically represents which organizations in Haiti are doing what and where.  Interaction welcomes feedback on this pilot initiative.  Contact them if you would like to learn more, submit data, or share your thoughts concerning the kinds of information that should be highlighted or the features you would like to see in the future.
So far, 44 organization and 950 projects have been mapped.  This will surely grow over time.  Participating organizations will be able to access GeoIQ, user friendly mapping software, at no cost.  With GeoIQ, members can:
1) Create maps and share them with others;
2) Identify potential partners;
3) Identify underserved areas or areas with greatest needs;
4) Access more than 20,000 data sets from organizations such as the United Nations or World Bank;
5) Overlay project information with relevant statistical information, such as child malnutrition rates; and
6) Analyze large amounts of data
Interaction is based in Washington DC.  A Member Directory is available here. Even if your organization is not a member, you can still benefit from its online resources concerning humanitarian assistance and development.  Interaction also advocates with Congress, U.S. government agencies, and holds events such as the Interaction Forum which is taking place now.
Thanks,
Bryan