Haiti Micah Project Update - Making a Difference in Mirebalais
Posted on:

20 January 2008

By:

Bryan Schaaf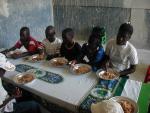 When someone says 'philanthropy', I am concerned that it conjures up images of celebrities and investors. All who support social causes are philanthropists.  Some prefer to support established organizations with a global reach.  Others like to support smaller organizations with the potential to grow.   Haiti Micah Project (HMP), serving vulnerable children in Mirebalais, is an organization poised to expand significantly in 2008.
Everything starts with hunger in Haiti - it is pervasive.  If you have ever gone a day without food, you will not be very interested in long term development plans, five year funding cycles, etc.  Priority number one is the next meal.
Haiti Micah Project (HMP) was founded by Joseph Constant, an Episcopal Priest who was born in Mirebalais, moved to the United States, but was determined to give something back.  Determined to do something for street children and vulnerable families in Mirbealais, he and a team of colleagues were able to establish a feeding program as a first step.
This feeding program is serving as a foundation for activities necessary for long term change.  115 children, either street children or kids with a parent but still vulnerable, are being fed and sent to school.  Many needed to be provided with birth certificates.  The skills needed to survive on the street are in direct opposition to those needed to function well in society -children are provided with guidance and emotional support as well.
HMP has arrived at a point where partnerships are both possible and needed. The parents and caretakers of the children would benefit from organization, education, and participation in micro-credit programs such as those available through FONKOZE, FINCA, or some Haitian bank chains.  
HMP is also seeking to establish vocational training programs for teenagers, so that they will have a livelihood and be able to support themselves and a family while being productive members of the community.   Haitians are hard working people and, once they have the know how, can do great things.  
In 2008, HMP intends to secure land for the construction of a youth center.  The program is considering hiring a local program manager to oversee programs and pursue partnership opportunities.  The website will also be updated.  HMP would like to post photos of participating children, their histories, and summaries of their educational process.  A strategic plan is under development and will be shared via the website as well.
Sometimes, people tell me that they want to get invovled in Haiti but they feel overwhelmed by the sheer scale of the needs which need to be met.  Where to start?  If you focus on the country wide needs, it is easy to feel frustated.  In this case, start with bringing about change in one community. 
If you find this program compelling, and are interested in lending a hand to the city of Mirbealais, we hope that you will consider this worthy initiative.
Bryan