Haiti, Go Solar! (by Denise Green)
Posted on:

28 November 2007

By:

Bryan Schaaf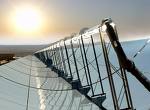 What is happening in Haiti? Why is our economy getting worse every day? Why can't we resolve basic issues and end poverty? I am still amazed to hear from family members that there are frequent periods without electricity that last more than a week! Can't our government realize that is a terrible loss for a developing country? What has been done to resolve the problem of electricity?
According to www.export.org, in 2005 there was a request for international help from the Haitian government due to an increased demand of electricity in Port-au-Prince. So far, there has been little action in response. The consequences of the blackouts are enormous : difficulties for students, a lack of industry and thus employment, lower productivity, a decrease in the quality of healthcare quality, all of which lead to insecurity, violence, and poverty.
I wonder if the government ever thinks about solar thermal technology as an alternative to electrical power? This could be a good energy option in developing countries. Many countries such as the Philippines and Indonesia have already taken steps towards going solar, and Haiti should do the same.  We should exploit the one resource that we always have plenty of - the Sun!
Below are some links on solar power in Haiti. I hope that it will become at least part of the solution to Haiti's energy woes.
3) Energy Seeds
Denise Green