The Dominican Dream Turned Nightmare for Haitian Migrants
Posted on:

18 October 2012

By:

Bryan Schaaf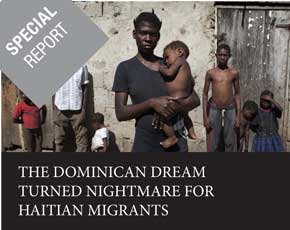 Equal Times has produced a compelling report on the abuse of Haitian migrants in the Dominican Republic.  It is concise, features remarkable photography and raises important issues such as the extent to which Dominican employers and law enforcement collude with traffickers.  Preventing and responding to abuses is necessary for developing a bilateral relationship between Haiti and the Dominican Republic based on mutual respect.
The report opens, "Tens of thousands of Haitians flee poverty every year to try their luck in the neighbouring country, the Dominican Republic. Most of them, not having the travel documents required, turn to traffickers to help them cross the border illegally. Faced with abuses ranging from "petty" corruption to rape or machete attacks, some see their dreams of El Dorado turn into a terrible nightmare."
Opportunities to work exist in the Dominican Republic that are not yet available in Haiti, especially in construction and tourism.  When I lived on the Central Plateau as a Peace Corps Volunteer, most of the men in my village spoke some Spanish.  They would go to the Dominican Republic, worked until deported, and then returned.  For many men, abuses may be limited to bribes, denial of pay, or beatings.  Crossing into and working in the Dominican Republic is more perilous for women and children.  According to the report, Haitian consular authorities lack the political will to intervene against abuses. 
With one million migrant workers in the Dominican Republic, addressing labor abuse is an issue that can only be addressed through cooperation between the two countries.  The international community can support them, but more leadership and engagement is needed by their governments and civil societies.  Thoughts on the report?  Please post below.