(Almost) Open for Business: Marche La Coupe in Petionville
Posted on:

23 March 2008

By:

Bryan Schaaf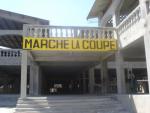 According to the Haiti Xchange site, the  Haitian government announced the opening of a newly constructed marketplace on Route des Freres in Petionville.  The idea is to reduce some of the congestion in Petionville, once one of Haiti's most polished neighborhoods.  I like the boisterous street symphony of everday life, but Petionville is overflowing with street merchants.  Giving them a safe, clean place to sell their goods seems a sensible move - provided they can get the licenses required to do so and that taxes are not excessive. 
According to the announcement, the market is sizeable, having two floors and being able to accomodate up to 9,000 merchants. It has an administative office and "other facilities." I really hope that includes restrooms, something lacking on the streets.
It is noted that the completion of this market is the first step in the government's plan to construct organized markets in Port au Prince.  The informal sector reigns supreme in Haiti, and many street vendors may opt for business as usual.   However, it is good to know that another option exists and if the markets were filled to capacity, it would surely help.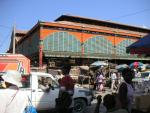 With the government building regional markets in the city, I would like to offer up the idea of a centralized art market in lieu of the Iron Market downtown.   Art is one of Haiti's strongest draws and it is a resource that will never be exhausted.   However, the Iron Market is not an ideal venue because of the  congestion, traffic, a sea of unlicensed tour guides, and security alets.  It is not far from Bel Air and other slum areas and other neighborhoods that can get "hot" quickly. Getting around the portion of the Iron Market that has art is a bit like navigating a haunted house with really nice paintings.  I may be exaggerating a bit, but I know many people who avoid the Iron Market because they find it to be an overwhelming experience.

So where could a new market be constructed?  It should be somewhere central, not too far from the hotels, and not generally a security concern.   Why not in the vicinity of Champ de Mars, a large open area with other sites of interest nearby?
I remember walking into a friend's house because she wanted to show me her Dominican art.   It wasn't Dominican, it was Haitian.  I hate the thought of Haiti's artists (and there are many!) having to sell their work in the Dominican Republic because the internal market is not active enough. Sure there are plenty of nice galleries in Petionville and artists do sell from their homes or in front of the larger hotels, but a centralized art market would be more accessible and could energize the market.  
Have any ideas for how strategic investments in Haiti's infrastructure can encourage livelihoods?  We would love to hear them.
Bryan